University of Ljubljana, Slovenia
University of Ljubljana, founded in 1919, is the oldest and largest higher education and scientific research institution in Slovenia. Some of the most recent and modern buildings were constructed on the outskirts of Ljubljana, giving the university and its students a ubiquitous presence in the city.
The University of Ljubljana is renowned for its quality social and natural sciences and technical study programmes, structured in accordance with the Bologna Declaration. The University Projects keep pace with the latest developments in the areas of arts, sciences and technology at home and abroad. The University has pioneered ground-breaking research and has achieved outstanding funding success in the sixth and seventh Framework Programmes. It is actively engaged in a number of flagship projects through the European Strategy Forum of Research Infrastructures.
Network partner
The University of Ljubljana and the University of Glasgow are both members of the Guild of European Research-Intensive Universities.
Mobility partner
>> Information for incoming students
Estimated number of mobility places: 1-3 full-year or 2-6 semester places
Available Subject Areas
Please ensure that you research the courses available to you as an exchange student, and check with your subject coordinator(s) that these courses are suitable for your Glasgow degree programme. Please note that partner course offerings may change on a yearly basis.
Please research course level; content and assessment structures; partner academic pre-requisites for exchange students; whether enough courses / credits are available in your degree subject(s) to meet your Glasgow degree credit requirements; language of teaching and for Joint Honours students, whether the partner has any restrictions on taking courses from different Schools/Faculties.
Key facts
Courses available in English. UofG students should ensure that all required courses are taught in a language in which they are at least proficient at B2 level.
Travel and costs
Nearest international airport: Ljubljana Airport (LJU)
Useful weblinks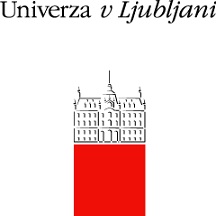 University of Ljubljana, Kongresni trg 12, 1000 Ljubljana, Slovenia
EU/EEA code
SI LJUBLJA01
Partner web
https://www.uni-lj.si/eng/
Partner mobility web
https://www.uni-lj.si/international_cooperation_and_exchange/
Mobility contact
intern.office@uni-lj.si
Disability support
https://www.uni-lj.si/study/usefulinformation/students_with_special_needs/