Modern Slavery Act 2015 Statement
Purpose of the statement
This statement aims to inform the University of Glasgow Court, our staff and the general public about the steps taken during the last financial year, ending 31 July 2019 in support of the Modern Slavery Act 2015.
Statement
The University is committed to ensuring and actively monitoring that modern slavery and human trafficking is not taking place in any parts of its operation within the University and its Supply Chain.
The University of Glasgow
History
The University is the fourth oldest University in the English-speaking world. Founded in 1451, it has earned an international reputation for research innovation, for connecting with experts in global business, and for inspiring thinkers from the father of economics, Adam Smith, to the eminent scientist, Lord Kelvin. Building on such vast experience, the University is a member of the elite Russell Group of 24 major research Universities.
Principal operations
Study and research are grouped into four Colleges, which are made up of broadly related Schools and Research Institutes. The Colleges are:
College of Arts
College of Medical, Veterinary and Life Sciences
College of Science and Engineering
College of Social Sciences
The majority of operations are carried out on the University's main Gilmorehill campus in the West End of Glasgow. Finding community within diversity, the University attracts students from more than 150 countries, as well as academics from around the globe. In addition, as a venue for international conferences and a hub of cultural interest, the University is also a major contributor to the cultural and commercial life of the country
Inspiring People – Changing the World
In 2015 the University published its current five-year strategy, Inspiring People – Changing the World. The strategy articulates a vision for the University – to be a world-class, world-changing university, complementing the University's mission to bring inspiring people together and create a world class environment for learning and research, empowering staff and students alike to discover and share knowledge that can change the world. The strategy is articulated across three key sections:
People: The University wants to be regarded among the very finest higher education institutions in the world. For that to happen, it needs to attract the best of the best – staff and students alike. The people section details the University's strategy to attract world-class staff and talented students from every corner of the globe and connect with the finest minds worldwide through international partnership and cooperation.
Place: The University wants to provide an internationally excellent environment which inspires its staff and students as world-class learners, researchers and professionals. The place section details its vision for world-class supporting infrastructure realised through cutting-edge facilities, best in class systems and outstanding professional support functions.
Purpose: The University exists to discover world-changing knowledge and then shares it with students and society at large. The purpose section articulates its vision for internationally excellent teaching, globally significant research, and local and global civic engagement that has tangible benefits and impact for communities
Supply Chain Expenditure
The University has a non-pay expenditure of c£270m across Goods, Services and Works. Within the University Supply Chain, category spend in key industries have been identified as high risk in relation to Modern Slavery such as:
Catering
Furniture
Utilities
IT
Labs
Travel
Construction
Responsibility of the Modern Slavery Act 2015
The University's Sustainability Strategy is supported by the Sustainability Working Group. The University is committed to addressing its impact on people and communities. Compliance to The Modern Slavery act 2015 is part of the University's Sustainability Strategy. The University is responsible for actively monitoring that modern slavery and human trafficking is not taking place in any parts of its operation within the University and its Supply Chain.
Procurement Governance Supporting the Modern Slavery Act 2015
The University Procurement Office role is to provide professional, qualified procurement expertise, advice and services; for all spend with external suppliers; in compliance with the Public Contract (Scotland) 2015 Regulations, the Procurement Reform Act 2014, the Procurement (Scotland) Regulation 2016 and any other EU Directives, with compliance to the Equality Act 2010 and Scottish Public Sector Equality Duty. We will procure all goods, services and works, with high ethical standards focussed on social, economic and environmental considerations with by applying principles of sustainable procurement.
The Procurement Office has implemented the Advanced Procurement of University and Colleges (APUC) Supply Chain Code of Conduct. This focuses on the organisation's and its Suppliers responsibilities in social, ethical, economic and environmental areas across the Supply Chain. The University Procurement Strategy is committed to delivering our Sustainability Objectives, which include identifying modern slavery risks within our Supply Chain. Procurement has used the sustainability risk prioritisation tool (Marrakech) which assigns a score for each risk attached to a category of spend. The high-risk categories are then investigated using the DEFRA analysis tool. Thereafter Suppliers identified within these categories are measured and monitored through the Chartered Institute of Procurement and Supply (CIPS) Sustainability Rating Programme. This policy is a part of University's Procurement Policy and incorporated into the all procurement and supply chain activities including tendering and contract procedures
The CIPS Corporate Social Responsibility (CSR) assessment is an evaluation of how well a company has integrated the principles of CSR into their business and management system. It is based on seven founding principles:
Evidence Based
Industry sector, country and size taken into account
Assessment by experienced CSR experts
Traceability & Transparency of documentation
Excellence through continuous improvement
Corporate Social Responsibility (CSR) Criteria
The assessment considers a range of CSR issues, which are grouped into 3 pillars:
1. Economic

a. Corporate Governance
b. Financial Robustness
c. Innovation Capacity
d. Business Integrity and Ethics

2. Environmental

a. Environmental Management
b. Greenhouse Gas Emissions
c. Energy Consumption
d. Waste Management
e. Sustainable Sourcing
f. Material and Resource use

3. Social

a. Employment Practice Indicators
b. Corporate Citizenship / Philanthropy
c. People Management and Development
d. Human Rights Compliance
e. Supply Chain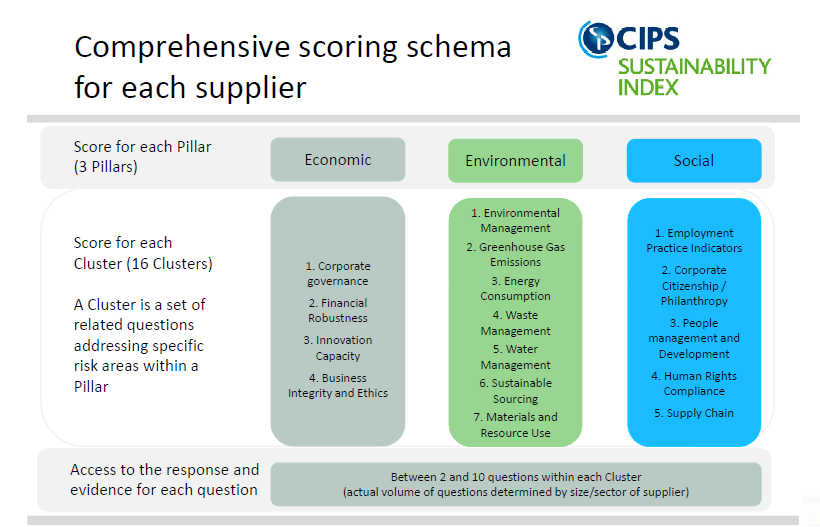 The Social pillar captures the modern slavery act question "Have you published an appropriate statement to comply with the provision within the UK Modern Slavery Act 2015 that requires qualifying businesses to produce a statement setting out the steps they have taken to ensure there is no modern slavery in your own business and in your supply chain(s)?"
Procurement Outcomes
Spend mapping identifies priority 1 Contracts under each high priority sustainability category. Procurement set a target of minimum 80% of priority 1 Suppliers spend, to be assessed through the CIPS Sustainability Indexation (SI) process.
The target achieved was 87% across 70 Suppliers.
The target for FY19-20 is to measure and monitor 75 high-risk priority Suppliers achieving a minimum of 90% of priority 1 Suppliers spend, to be assessed through a Sustainability Indexation (SI) process.
Training and Awareness
Sustainable Procurement training has been completed by all members of the Procurement team. Further training is planned throughout FY19-20.
Awards
CIPS Procurement Excellence Standard Award
The University has held the Chartered Institute of Procurement and Supply (CIPS) Certification since 2015 and has recently been revalidated and achieved the Procurement Excellence Standard Award Number 0500 valid until 03/2022. This an in-depth assessment process that measures the organisation's procurement function against world-class standards.
Living Wage Employer
The University of Glasgow is proud to be an Accredited Living Wage
employer. This means:
We are committed to paying all employees at least the Living Wage
We ensure that all casual workers engaged directly by the University are paid at least the Living Wage
We have set up our procurement procedures to ensure that we engage with contractors and potential contractors to encourage them, as far as possible, to also pay the Living Wage to people regularly working on our premises.
Fair Trade
Glasgow is the second University in Scotland to achieve Fairtrade status. In line with our policy on sustainability, and our commitment to principles of fairness and equality, the University is committed to supporting, promoting and using Fairtrade goods and has worked hard to achieve accreditation. Fairtrade foods are served at all meetings hosted by the University and the student unions and a wide range of Fairtrade products
Electronics Watch
The University is a member of Electronics Watch, which is an independent monitoring organisation that assists public sector buyers to meet their responsibility to protect the labour rights of workers in their global electronics supply chains more effectively and less expensively than any single public sector buyer could accomplish on its own.
Release Date: February 2020
Author: Head of Procurement
Approver: David Duncan on behalf of Court.
Title: Chief Operating Officer and University Secretary.