European Humanities University, Lithuania
The European Humanities University offers courses in humanities and social sciences in Vilnius, Lithuania.
Vilnius is the capital of and largest city in Lithuania. It is a cosmopolitan city and known for the architecture in its old town, a UNESCO world heritage site. A rich history has resulted in a vibrant city full of culture and Vilnius is recognised by UNESCO as one of the most beautiful cities in Eastern and Central Europe.
Mobility partner
>> Information for incoming students
Estimated number of places: 1-3 full-year or 2-6 semester places
Available Subject Areas
Please ensure that you research the courses available to you as an exchange student, and check with your subject coordinator(s) that these courses are suitable for your Glasgow degree programme. Please note that partner course offerings may change on a yearly basis.
Please research course level; content and assessment structures; partner academic pre-requisites for exchange students; whether enough courses / credits are available in your degree subject(s) to meet your Glasgow degree credit requirements; language of teaching and for Joint Honours students, whether the partner has any restrictions on taking courses from different Schools/Faculties.
Key facts
Language of teaching is primarily in Belarusian and Russian. UofG students should ensure that all required courses are taught in a language in which they are at least proficient at B2 level.
Entry Requirements: not applicable.
Accommodation is available in EHU student residences, or privately
Travel and costs
Nearest airport: Vilnius Airport (VNO). More travel information available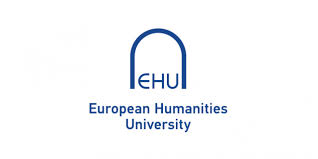 European Humanities University, Tauro St. 12, Vilnius, Lithuania
EU/EEA code
LT VILNIUS20
Partner web
http://www.ehu.lt/en/
Partner mobility web
https://en.ehu.lt/international/incoming-students/
Mobility contact
international @ ehu.lt