Quick Links

15th century Arabic manuscript (MS Hunter 40)

Chaucer's The Romaunt of the Rose, c 1440 (MS Hunter 409 fol57v)

First Folio edition of Shakespeare's collected plays, 1623. (Sp Coll BD8-b.1)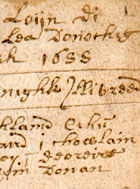 Fernaig Manuscript of Gaelic verse, late 17th century. (MS Gen 85)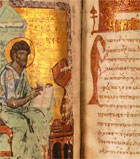 12th century copy of the Greek Gospels (MS Hunter 475)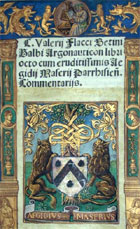 The epic Latin poem, the Argonautica (Sp Coll Hunterian Bq.2.11)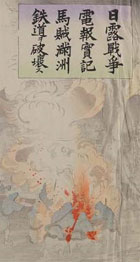 Woodblock print, Japan, 1904 (Sp Coll e159)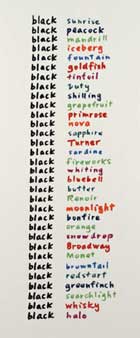 'Mutation' by Edwin Morgan, Colour Poems sequence, 1978. (Sp Coll HX 132/3)
Languages & Literature
Our collections are excellent resources for the study of language, linguistics and literature; they span over 2000 years of human activity and cover many periods and regions of the world. This page provides:
---
Tips for locating relevant material
To search across all our collections, by name or keyword, please use the rare books search (for printed material) and the manuscripts search (for unpublished material including notebooks, papers, photographs and drawings)
Narrow your search by choosing the appropriate language from the drop down menu in the manuscripts document search or the rare books search
Collections of general interest
Ballads: some 408 black-letter English broadside ballads in the Euing collection, plus many examples of Scottish ballads in Murray collection (broadsides) and chapbooks collection
Dictionaries: dispersed collection constituting about 500 items
Douglas Papers: 18th century collection includes a series of manuscript English, French, Latin and Greek grammars, and a set of papers on the works of Horace (MS Hunter D526-D560)
Arabic & Persian
Farmer: papers of Henry George Farmer (1882-1965), musician and orientalist
Hunterian: includes medieval/Renaissance Arabic manuscripts
General manuscripts: includes medieval/Renaissance Arabic manuscripts
See also the following book of the month article:
English
See Scottish section for writers in English, of Scottish origin.
Web exhibitions relating to English language and literature:
Gaelic
See also:
Greek
Web exhibitions featuring Greek texts:
Hebrew
Blau: 193 Hebrew books, comprising mainly Talmud and Biblical commentary, with Italian imprints predominating; many date from the 16th century
James Robertson: correspondence addressed to a Professor of Hebrew and Semitic languages, covering the period 1864-1885
Hispanic
Scarfe-La Trobe: collection of over 1000 Spanish plays (including sueltas and desglosadas), ranging in date from the 17th to the end of the 19th centuries
Web exhibitions featuring relevant material:
Hispanica: web exhibition that describes items from the 15th to 19th centuries from various collections, grouped around the themes of literature, emblems, religion, language, music, art, history and science
Scarfe-La Trobe collection 17th to 19th centuries (Book of the Month: April 2003)
Diego Muñoz Camargo: Historia de Tlaxcala Mexico: 1585 (Book of the Month: January 2003)
Latin
Latin is the predominant language of our European manuscripts and early printed books and relevant material may be found across our collections. However, students of classical Latin literature may find the following of particular interest:
Web exhibitions featuring Latin classical texts:
Oriental
Bayer: 18th century collection of Chinese and other oriental books and manuscripts, including palmleaf books in Tamil and Telugu, notes on oriental history and philology, and correspondence with the Jesuits in Peking
Farmer: papers and books of Henry George Farmer (1882-1965), musician and orientalist, including oriental publications
Waddell: over 700 volumes, including items dealing with Assyrian and Sumerian languages
This book of the month article may be of interest:
Scottish
Relevant material may also be found in the English section.
Web exhibitions featuring relevant material:
Victorian literature
Victorian Resources web pages: includes a section dedicated to Victorian books of poetry, fiction and travel literature drawn from a number of collections
Novels: some 1,800 titles of late 18th century and 19th century fiction
Web exhibitions featuring Victorian works of literature:
Quick Links

15th century Arabic manuscript (MS Hunter 40)

Chaucer's The Romaunt of the Rose, c 1440 (MS Hunter 409 fol57v)

First Folio edition of Shakespeare's collected plays, 1623. (Sp Coll BD8-b.1)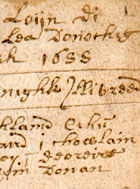 Fernaig Manuscript of Gaelic verse, late 17th century. (MS Gen 85)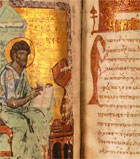 12th century copy of the Greek Gospels (MS Hunter 475)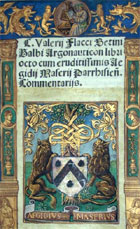 The epic Latin poem, the Argonautica (Sp Coll Hunterian Bq.2.11)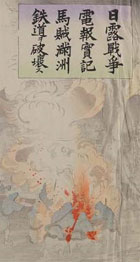 Woodblock print, Japan, 1904 (Sp Coll e159)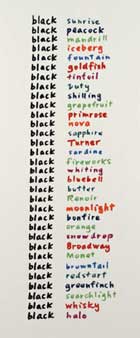 'Mutation' by Edwin Morgan, Colour Poems sequence, 1978. (Sp Coll HX 132/3)