Quick Links


Novels in the Special Collections book stack
19th-Century Novels
Welcome to the Novel Collection website of the University of Glasgow's Archives and Special Collections. It was created with the University's Chancellor's Fund, and is designed primarily for students and researchers to show the richness and potential of the collection.
The primary focus of the collection is the fiction of the long 19th Century, but some items were published before 1800, and the collection also extends into the interwar years. It includes many works which are outside the mainstream canon of 19th-century fiction, and are of great interest to critics and historians of the period's popular, religious and social literature.

Find out more about the collection and its strengths:

You can search for items in the collection two ways:
We hope you enjoy using this website and finding out about the novels collection at University of Glasgow's Library. Please pass on any comments or suggestions to special-collections@glasgow.ac.uk.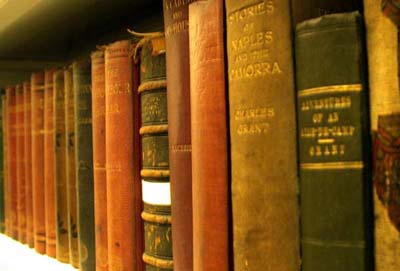 Students are encouraged to visit Special Collections to consult this material in person. For further general advice about using the collections, please contact the Special Collections reading room.
Quick Links


Novels in the Special Collections book stack