Quick Links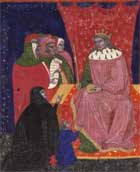 The emperor Justinian with his counsellors, from a commentary on part of the Digest of Roman Law, c 1400 (Sp Coll Hunterian Add f91)
Law
Material relating to the history of law will be found in a number of our collections. Resources include a range of early legal texts (manuscript and printed) dating from the medieval period.
The following collections are of particular interest:
Other relevant material is dispersed throughout other collections. To search across all our collections, by name or keyword, please use the rare books search (for printed material) and the manuscripts search (for unpublished material including notebooks, papers, photographs and drawings).
Our holdings of historical Acts of Parliament and other parliamentary papers are incomplete. However, many of these are available online: see the Maps, Official Publications and Statistics Unit for more advice.
Web resources relating to the history of law:
Quick Links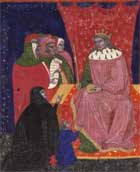 The emperor Justinian with his counsellors, from a commentary on part of the Digest of Roman Law, c 1400 (Sp Coll Hunterian Add f91)