Quick Links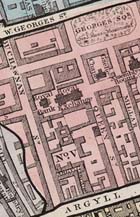 Detail of map of Glasgow, showing the city centre around George Square, 1844. (Sp Coll Mu26-a.29)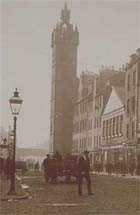 South end of High Street, looking towards the Tolbooth, 1890s. (Photo B12, No 27)
Glasgow
Material relating to the history of Glasgow can be found across our collections, particularly the following:
Murray: a superb regional history collection with a wealth of 17th and 18th century Glasgow imprints and 19th century material on the economic and social development of the West of Scotland (for example, works on banking, railways, canals and ports), publications relating to the administration of the city of Glasgow and the University, engraved topographical works, maps, some Scottish newspapers, directories and periodicals
Smith: an unrivalled collection of rare Glasgow pamphlets and some 5,000 items of ephemera (eg posters, advertisements) relating to the history of Glasgow
Wylie: almost 1,000 volumes relating to the history and topography of Glasgow and surrounding area from the 18th century to the early 1900s.
Researchers interested in Glasgow's history are also advised to consult the outstanding resources of the city's Mitchell Library. Most records documenting the history of the University and its management, staff and students, from 1451 to the present day, are held by Archive Services. They also have extensive collections of historical business records, including much of the archive of Scottish industries such as banking, retail, distilling and shipbuilding.
Specific aspects of life in Glasgow (for example, education, politics and social history) are illustrated in the following:
To search across all our collections, by name or keyword, please use the rare books search (for printed material) and the manuscripts search (for unpublished material including notebooks, papers, photographs and drawings).
Web exhibitions featuring material relating to Glasgow:
Allan and Ferguson's Views in Glasgow: depicting buildings and landmarks from the early 19th century
Ephemera of John Smith: gives a broad picture of Glasgow life in the first half of the 19th century
The Glasgow/Northern Looking Glass, 1825-1826 (Book of the Month: June 2005)
Facts and Observations on the Sanitary State of Glasgow, 1844 (Book of the Month: February 2006)
The Old Closes and Streets of Glasgow, c 1872 (Collection Highlight)
Free Kicks at Football, Glasgow: 1882 (Book of the Month: January 2004)
Glasgow International Exhibition, 1901 (Book of the Month: October 1999) and selection of images from 1888 and 1901 exhibitions
Glasgow in Panorama, 1907 (Book of the Month: June 2004)
Dr Henry Farmer's scrapbook, including theatrical and concert programmes, 1911-1940 (Book of the Month: July 2007)
Glasgow Cathedral Windows: a selection of images from books and manuscripts describing the history of the cathedral and its windows
University of Glasgow Library timeline: charts the history of the library from 1451 to the present day
In Aedibus Academicis: the Glasgow University Press: books produced by the printers of the University of Glasgow from 1638 to 1982
University of Glasgow Library 1691 catalogue: introduction to the handwritten Library catalogue dating from the late 17th century
Foulis press: examples from world renowned press, founded in Glasgow in the 18th century
University of Glasgow Old & New, 1891 (Book of the Month: July 2008)
Photographs of University of Glasgow Library under construction, 1960s (Book of the Month: September 2008)
Quick Links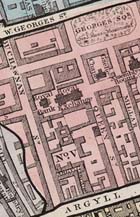 Detail of map of Glasgow, showing the city centre around George Square, 1844. (Sp Coll Mu26-a.29)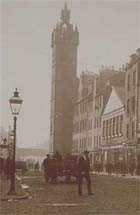 South end of High Street, looking towards the Tolbooth, 1890s. (Photo B12, No 27)