Quick Links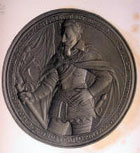 Illustration of a medal showing King Sigismond III Vasa. (Sp Coll S.M. 1779)
Numismatics
We have small but significant holdings of material relating to the study of coins and medals. See, in particular, the following collections:
Hunterian: includes books on numismatics and some manuscript items relating to William Hunter's acquisition of coins and medals
Hunterian Museum: includes correspondence relating to coins and medals
Stirling Maxwell: collection of emblem literature, including medal books
Relevant material may also be found by searching across all our collections, by name or keyword. Please use the rare books search (for printed material) and the manuscripts search (for unpublished material including notebooks, papers, photographs and drawings).
Quick Links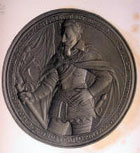 Illustration of a medal showing King Sigismond III Vasa. (Sp Coll S.M. 1779)