Quick Links

Letter from Iceland, sent by W P Ker, 1895 (MS Gen 1300/1/1)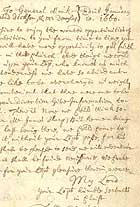 Letter to General Monck, army officer, 1660 (MS Gen 210)
Correspondence
Our manuscript collections contain large amounts of correspondence. Letters are sometimes found with other personal papers such as diaries and notebooks. See these examples:
There are many letters in our MS Gen (general manuscripts) sequence. To locate these try the following search:
Choose Document Search from the manuscripts search
Type MS Gen in the Call Number box
Choose Letter from the Document Type drop-down menu
Narrow your search by date or keywords
To search across all our collections, by name or keyword, please use the rare books search (for printed material) and the manuscripts search (for unpublished material including notebooks, papers, photographs and drawings).
Web exhibitions featuring correspondence:
Quick Links

Letter from Iceland, sent by W P Ker, 1895 (MS Gen 1300/1/1)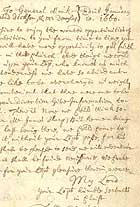 Letter to General Monck, army officer, 1660 (MS Gen 210)