Quick Links
More material on Languages & Literature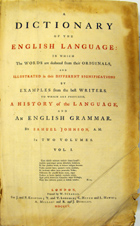 Title-page from volume 1 of A Dictionary of the English Language by Samuel Johnson
London: 1755 (Sp Coll Bi7-a.8)
Dictionaries
The Special Collections Department is lucky to have remarkably strong holdings of dictionaries across its collections, ranging in date from the 15th to the 19th century and with imprints as diverse as Moscow and Manila. Over 500 items printed before 1850 have been identified.
Different types of dictionary are held including:
monolingual
bilingual
polyglot
Also dictionaries on various subjects, including:
heraldry
gardening
legal
military
scientific
The collection of dictionaries has been actively developed since 1978, chiefly with the aid of funds provided by the Friends of Glasgow University Library.
How to find Dictionaries
Use the rare books search, using dictionary as a keyword or dictionaries as a subject
There is a sheaf binder available on the Special Collections reference shelves that gathers together details of dictionaries dispersed throughtu various collections; this is no longer kept up to date but is a useful starting point
Jack Baldwin, 'The daughters of earth', The College Courant, 63 (1979), pp. 28-29 (article on the dictionaries in Special Collections)
Samuel Johnson: A Dictionary of the English Language (Book of the Month: April 2007)
Quick Links
More material on Languages & Literature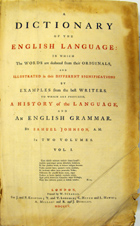 Title-page from volume 1 of A Dictionary of the English Language by Samuel Johnson
London: 1755 (Sp Coll Bi7-a.8)