Quick Links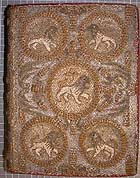 Bible with embroidered binding (Euing Dp-b.4)

Euing lute manuscript (MS Euing 25)

Shakespeare's First Folio (BD8-b.1)
Euing Collection
Some 12,000 books from the library of William Euing (1788-1874), a Glasgow insurance broker.
One of the great 19th-century bequests to the University, the collection is divided into three parts:
a general collection of 7,000 volumes, including 130 incunabula
a collection of bibles, psalters, books of prayers and hymns amounting to 3,000 volumes, including 24 incunabula
a collection of 2,500 volumes of early printed music, including 7 incunabula
Euing bequeathed the first two sections to the University Library in 1874; the third section - the Euing Music Library - was originally bequeathed to Anderson's College (now the University of Strathclyde), but was transferred to the University of Glasgow Library in 1936. In 1874, some 1800 duplicates from the Euing Collection were sold to the Corporation of Glasgow for the newly formed Mitchell Library; at the same time, other library duplicates were given to the Mitchell. Under the terms of Euing's will, books could be sold with the "proceeds falling to be applied partly to the provision of accommodation for the books retained, partly to their binding and repair, and partly to the purchase of other works in lieu of those sold" (quoting a letter from William P. Dickson, Curator of the Library, 18th December 1874, as cited in 'Glasgow Public Libraries 1874-1966 (Glasgow: 1966)).
General collection
Literature
The general collection is especially strong in 17th- and 18th-century English literature. Euing's friendship with the Shakespearean scholar, James Orchard Halliwell (later Halliwell-Phillipps), resulted in the acquisition of many choice items in this field, including a copy of the Shakespeare First Folio. There are also copies of first editions of Burton's Anatomy of melancholy, Milton's Paradise lost and Paradise regain'd, Locke's Essay concerning humane understanding and Swift's Gulliver's travels. Euing's collection of 408 black-letter ballads can stand comparison with the Dyce Collection in the Bodleian Library.
Illustrated and Topographical works
Illustrated books and fine typography of the 18th and 19th centuries are also well represented - especially Baskerville, Barbou, Bodoni, Didot, the Strawberry Hill Press and Foulis Press.
Smaller Groups
Euing's catholic tastes are reflected in the presence of many smaller groups of books: books on travel and exploration (including Americana); art, architecture, design and ceramics; works on marine biology and on angling; tracts on temperance and on vegetarianism; works on Scottish history; and fine bindings. In the course of forming his library Euing also gathered together a splendid collection of book sale catalogues, library catalogues and bibliographical works. In addition he made special efforts to collect the works of particular authors: Cervantes' Don Quixote, Bunyan's Pilgrim's progress, the Imitatio Christi of Thomas à Kempis, and the works of George Wither, Allan Ramsay and Ossian.
Music Collection
The collection's musical treasures include manuscripts of two medieval liturgical works, an early 17th century lute book, a set of part-books belonging to the publisher John Playford, and biographical documents and letters sent to John Sainsbury for use in his Dictionary of musicians which appeared in 1824. Published music includes contemporary editions of works by Byrd, Purcell, Gibbons, Lully, Marenzio, Couperin, Frescobaldi and many others, while among the theoretical works are several rare items, such as Thomas Morley's Plaine and easie introduction to practicall musicke (1597) and Thomas Mace's Musick's monument (1676).
How to find material in the Euing Collection
Browse through a list of manuscript items (MS Euing) or use the manuscripts search to search for unpublished works (including medieval manuscripts, music scores etc).
Use the rare books search to locate published works; you may also browse though an incomplete listing of titles from this collection (please note that as nearly 3000 titles are listed here, more focused searching by name/title/keyword/subject using the rare books search is recommended).
About 300 Bibles are as yet uncatalogued and therefore will not be found using the rare books search: instead, use a manuscript catalogue of the Bible Collection (available on the reference shelves of the Special Collections reading room); there is also a manuscript list of the Psalm books, hymn books, liturgies, biblical commentaries and other portions of the Scriptures shelved at Da-c.22.
The black-letter broadside ballads have been digitised and are available to search and view on the English Broadside Ballads website (The collection search within the advanced search option offers Euing as an option in its drop down menu) They are not yet available using the rare books search. Instead use The Euing Collection of English broadside ballads in the Library of the University of Glasgow, with an introduction by John Holloway (Glasgow, 1971). There is a copy available on the reference shelves of the Special Collections reading room.
Catalogue of the musical library of the late Wm. Euing, Esq., bequeathed to Anderson's University (Glasgow 1878): this contains a number of errors and should be used with extreme caution (using the web based manuscripts and rare books searches is preferable).
For a general overview see: Jack Baldwin "The Euing Collection", The College Courant, 28 (1976), pp.11-14.
Broadsides, 16th-20th century: an exhibition (Glasgow, 1971). An unpublished exhibition catalogue featuring items from the Eung Collection (copy available with other old Special Collections exhibition catalogues in the reading room).
Natalie B. Caira The Euing collection in Glasgow University Library: a study (MS Gen 1592)
The magic of the middle ages: manuscript treasures of Glasgow University Library. Unpublished exhibition catalogue in two parts: Part 1: Sacred manuscripts (Glasgow: 1994); Part 2: Secular manuscripts (Glasgow: 1995). Features items from the Euing Collection (copy available with other old Special Collections exhibition catalogues in the reading room).
Nigel Thorp, The glory of the page: medieval and renaissance illuminated manuscripts from Glasgow University Library (London, 1987). Exhibition catalogue featuring items from the Euing Collection.
See also the following web exhibitons and book of the month articles that highlight items from the Euing collection:
Quick Links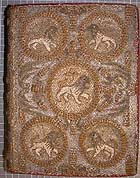 Bible with embroidered binding (Euing Dp-b.4)

Euing lute manuscript (MS Euing 25)

Shakespeare's First Folio (BD8-b.1)