Quick Links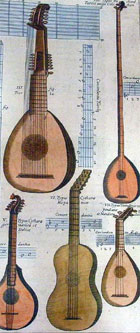 Stringed instruments, from Kircher's Musurgia Universalis, 1650. (Sp Coll Ferguson Af-x.9)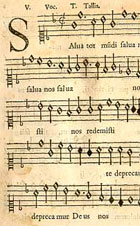 Choral work by Thomas Tallis, printed 1575. (Sp Coll R.b.47)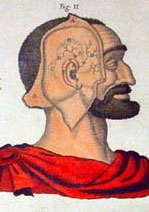 17th century diagram showing how the ear functions. (Sp Coll Ferguson Af-x.9)
Music
We have excellent holdings of printed and manuscript material relating to music, including original scores and theoretical text books, from the medieval period to the 20th century. The most important collection for early material is undoubtedly the Euing collection which includes:
manuscripts of two medieval liturgical works, an early 17th century lute book and a set of part-books belonging to the music publisher John Playford (1622/3-1686/7)
biographical documents and letters sent to John Sainsbury for use in his Dictionary of musicians (1824)
published music includes contemporary editions of works by Byrd, Purcell, Gibbons, Lully, Marenzio, Couperin, Frescobaldi and many others
among the theoretical works are several rare items, such as Thomas Morley's Plaine and easie introduction to practicall musicke (1597) and Thomas Mace's Musick's monument (1676).
Another strength of our musical collections is in the work of 19th century Scottish composers, with a good representation of both published works and manuscript scores.
The collections that contain the most significant material are:
Hymnology
The collections that are particularly useful for research into the study of the composition and history of hymns are:
Mearns: some 2,000 hymnological works, including many rare early items from the continent; also some 1,600 letters to James Mearns (1855-1922), mainly on hymnological topics, associated with his revision of John Julian's Dictionary of hymnology
Euing: as well as the general music collection, has a collection of bibles, psalters, books of prayers and hymns amounting to 3,000 volumes
Roberton: includes most of the faux bourdon psalm settings in the series arranged by Hugh Roberton (1874-1952)

Material relating to music is dispersed throughout a number of other collections including the general rare books and manuscripts sequences, eg:
MS Gen 1728 - material relating to Thomas Wilson (1927-2001), composer and Professor of Music.
MS Gen 1773 - papers of Simon Frith (1946-), author, music critic and journalist.
MS Gen 1775 - papers of Pete Frame (1942-), music journalist and author of Rock Family Trees publications.
The easiest way to locate this material is by using the rare books search (for printed material) and the manuscripts search (for unpublished manuscript scores etc).
A number of web exhibitions and book of the month articles have featured items from our music collections:
Quick Links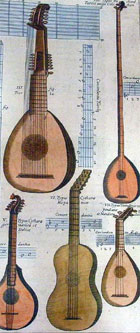 Stringed instruments, from Kircher's Musurgia Universalis, 1650. (Sp Coll Ferguson Af-x.9)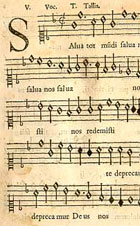 Choral work by Thomas Tallis, printed 1575. (Sp Coll R.b.47)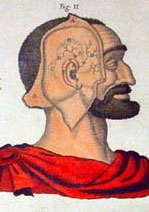 17th century diagram showing how the ear functions. (Sp Coll Ferguson Af-x.9)