Quick Links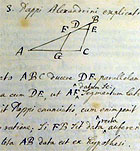 Notes by Robert Simson on the work of Pappus of Alexandria. (MS Gen 1118)
Mathematics
We have strong holdings for research into the history of mathematics, including a copy of the first edition of Isaac Newton's Principia (1687).
The following collections are of particular interest:
Further relevant material is dispersed throughout other collections. To search across all our collections, by name or keyword, please use the rare books search (for printed material) and the manuscripts search (for unpublished material including notebooks, papers, photographs and drawings).
Book of the month articles relating to mathematics:
Quick Links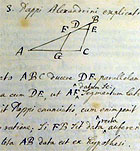 Notes by Robert Simson on the work of Pappus of Alexandria. (MS Gen 1118)