Quick Links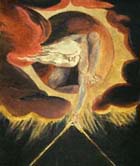 Illustration by William Blake, 1794 (Sp Coll RX 132)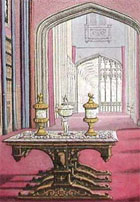 King Edward's Gallery, Fonthill Abby, 1823 (Sp Coll q63)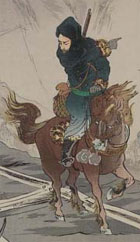 Woodblock print, Japan 1903-4 (Sp Coll e159)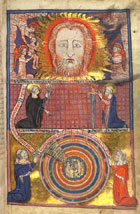 St Benedict's Vision of the Universe, 14th century (MS Hunter 231)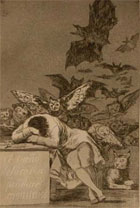 Goya, Los Caprichos, 1799 (Sp Coll S.M. 1946)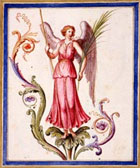 Drawings after ancient roman paintings, 1674 (MS Gen 1496)

The artist Whistler in 1879 (Whistler PH 1/98)
Art
We have outstanding collections that support research in the areas of Art and the History of Art. Some of these, including the Blake prints and Whistler archive, are of international importance. This page provides:
Researchers are also advised to see other subject pages relevant to their area of interest, for example, Photography.
---
Collections relating to individual artists:
Louise Annand (1915-2012): Artist, educator and filmmaker. Correspondence, subject files, photographs and some sketches.
Blake Prints: original works by the engraver, artist and poet William Blake (1757-1827)
Jessie Marion King Papers: papers of the illustrator and designer Jessie King (1875-1949) and her husband E A Taylor (1874-1951) including correspondence, presscuttings, exhibition catalogues, photographs and printed books
Lanark: papers of writer and artist Alasdair Gray (b 1934) relating to his novel (published 1981), including handwritten drafts and lithographs of the title pages
Bet Low (1924-2007): Artist. Correspondence, some sketches, photographs, material relating to exhibitions and Unity Theatre.
Morris: bookbindings by Talwin Morris (1865-1911) in the "Glasgow style"
Paterson: photographs, lecture notes and correspondence of the painter James Paterson (1854-1932), influential to the group known as the "Glasgow Boys"
Whistler Archive: internationally important collection of correspondence and papers of the artist James McNeill Whistler (1834-1903); also his library and secondary source material
See also these web exhibitions:
Collections relating to dealers and writers on art:
Types of sources and areas of interest:
Book design and binding
Euing: a wide ranging collection which includes illustrated works and landmark examples of book design
Morris: small collection of books designed by Talwin Morris (1865-1911) in the "Glasgow style"
British Bookbindings: examples of bindings from the 16th to 19th centuries
Private press books: includes examples from the Kelmscott Press, established by William Morris (1834-1896)
Caricatures
Caricatures: a collection of political caricatures from the Franco-Prussian war, 1870s
Glasgow/Northern Looking Glass 1825-6, a satirical magazine (Book of the month: June 2005)
Bande Dessinée: a selection of caricatures illustrating the 'pre-history' of this french cultural form
Domestic art and architecture
Glasgow
Illustrations: emblems
Stirling Maxwell internationally significant collection of illustrated emblem books
Gemmell: small collection of illustrated books depicting the dance of death
Dancing with Death: images from a selection of illustrated books
Illustrations: medical
The Body Revealed: images from major illustrated anatomical works of the 16th and 17th centuries
Illustrations: medieval manuscripts and books
Hunterian: wide ranging collection including medieval manuscripts, anatomical and medical drawings, illustrated books etc
Manuscripts: general collection including many illuminated and decorated medieval manuscripts
See also these web exhibitions:
Illustrations: natural history
Illustrations: 19th century literature
Photographs
We have significant collections of images from the 19th and early 20th centuries, featuring urban and natural landscapes, domestic scenes and travel. Please go to our subject page for Photography.
Tips for locating other relevant material
There are many more rare books and manuscripts which may be relevant to your research. To search across all our collections please use the rare books search (for printed material) and the manuscripts search (for unpublished material including notebooks, papers, photographs and drawings)
Try different keywords, synonyms and alternative spellings. For example, historical material relating to painting may refer to 'limning'.
Subject index on the reference shelves in the Special Collections reading room. (NB: no longer updated but worth checking in addition to online catalogue search)
Use the search our site option to locate resources including web exhibitions which may feature material relevant to your research.
Quick Links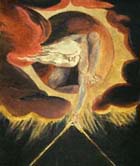 Illustration by William Blake, 1794 (Sp Coll RX 132)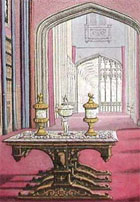 King Edward's Gallery, Fonthill Abby, 1823 (Sp Coll q63)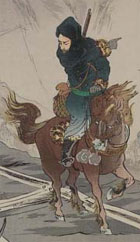 Woodblock print, Japan 1903-4 (Sp Coll e159)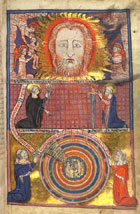 St Benedict's Vision of the Universe, 14th century (MS Hunter 231)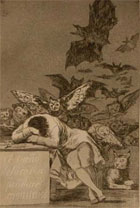 Goya, Los Caprichos, 1799 (Sp Coll S.M. 1946)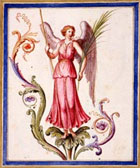 Drawings after ancient roman paintings, 1674 (MS Gen 1496)

The artist Whistler in 1879 (Whistler PH 1/98)