Quick Links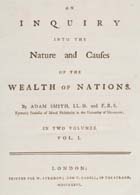 Adam Smith's Wealth of Nations, 1776 (Sp Coll Mu6-y.20)

Papers from the W R Scott collection (MS Gen 1293)
Economics
Material relating to economics and the history of economic thought can be found in several collections:

A detailed guide to archives, manuscripts and rare books relating to 18th century economic thought is available here:
Adam Smith research resources‌: research resources in the University of Glasgow relating to the economist and philosopher Adam Smith and the Scottish Enlightenment (PDF).
The following web exhibition highlights relevant material:

To search across all our collections by name or keyword, use the rare books search (for printed material) and the manuscripts search (for unpublished material including notebooks, papers, photographs and drawings).

See also the webpages for Archive Services who hold one of the largest collections of historical business records in Europe, including much of the archive of Scottish industries such as banking, retail, distilling and shipbuilding.
Quick Links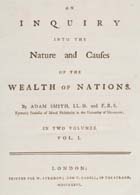 Adam Smith's Wealth of Nations, 1776 (Sp Coll Mu6-y.20)

Papers from the W R Scott collection (MS Gen 1293)