Enquiry forms
University of Glasgow ancestor enquiry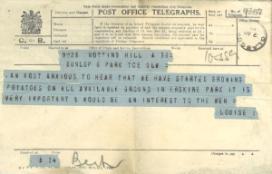 Telegram from Princess Louise regarding patient care at Erskine Hospital (ref UGC 225/5/1)
Contact us
From Monday 23rd November 2020 we are primarily working from home, with limited enquiry and consultation services available. We thank you for your patience and understanding at this time.
Online
Please use our online enquiry form in the first instance, completing the required fields to ensure a reply.
If the form is unavailable, please e-mail library-asc@gla.ac.uk, and provide as much information regarding your enquiry as is possible, as well as comprehensive contact details (name, postal address and e-mail address).
Phone
Please note that we have limited staff on-site for limited periods across the week. We encourage you to contact us via our enquiry form or via email at library-asc@gla.ac.uk .
If you need to contact us by phone, you can leave a message on the following number:
Phone: +44 (0) 141 330 6767

Post
Please address all enquiries to:
Archives & Special Collections, University of Glasgow, Library, Hillhead Street, Glasgow, G12 8QE.
Enquiry forms
University of Glasgow ancestor enquiry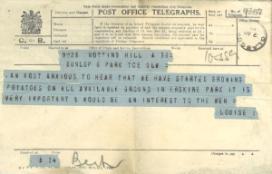 Telegram from Princess Louise regarding patient care at Erskine Hospital (ref UGC 225/5/1)