Quick Links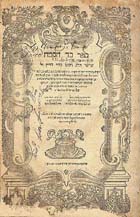 Title page of Bahya ben Asher: Sefer kad ha-qemah Venice [1546] (Sp Coll Blau 127)
Blau Collection
A collection of 193 Hebrew books which formed part of the library of Professor Ludwig Blau (1861-1936), director of the Jewish Theological Seminary of Budapest.
Comprised mainly of Talmud and Biblical commentary, Italian imprints predominate the collection, while over half the volumes date from the 16th century.
The collection was purchased by the University of Glasgow in 1937.
How to find material in the Blau Collection
To access a list of published books for this collection, see Sp Coll Blau
Alternatively, locate items using the rare books search.
A searchable PDF of the collection, which includes additional biographical details of Blau, has also been created by David Weston, (updated 2022): Blau Catalogue 2022
Quick Links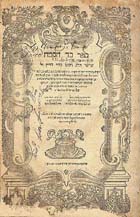 Title page of Bahya ben Asher: Sefer kad ha-qemah Venice [1546] (Sp Coll Blau 127)