Quick Links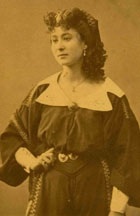 Josephine Durwand, known as Finette. (Whistler PH1/6)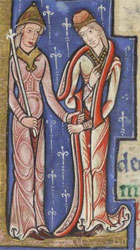 Two noblewomen in the 12th century Hunterian Psalter (Sp Coll MS Hunter 252)
Women
Material relating to the history of women's experiences is dispersed throughout our collections. This includes resources for the history of women's rights (particularly of the late 19th and early 20th centuries).
General searching
To search across all our collections, by name or keyword, please use the rare books search (for printed material) and the manuscripts search (for unpublished material including notebooks, papers, photographs and drawings).
In the manuscripts Name search it is possible to restrict search results to women only by choosing Female as a gender limit
Researchers are also advised to consult other subject pages which may be relevant to their area of interest, for example, correspondence, medicine and social history. Numerous images will be found in our collections relating to photography.
Women and the written word
There are examples throughout our collections of material written by, for or about women. The following web exhibition examines women and the written word, highlighting material from the 16th century onwards. This ranges from early printed guides to childbirth, manuscript collections of recipes (relating to food, medicine and art), to material written by members of the women's suffrage movement. It also highlights women as authors, owners, illustrators, translators and publishers of books. Featured individuals include Elizabeth Blackwell, Joanna Baillie, Mary Wollstonecraft, Emmeline Pankhurst and Emmeline Pethick Lawrence.
Women and books: from the sixteenth century to the Suffragettes
Suffragette movement
The following collections include material which is particularly relevant:
Bissett: over 1,500 pamphlets, from late 19th century onwards, covering a wide range of subjects including the suffragette movement
MacCallum Scott: papers of a politician with an anti-suffrage stance
Items from both these collections are highlighted in this course material page:
Quick Links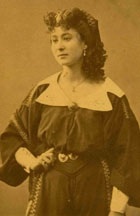 Josephine Durwand, known as Finette. (Whistler PH1/6)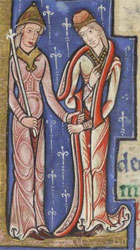 Two noblewomen in the 12th century Hunterian Psalter (Sp Coll MS Hunter 252)