Quick Links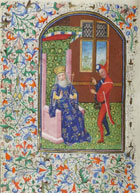 15th century Book of Hours (MS Gen 288)

18th century journal (MS Gen 1354/22)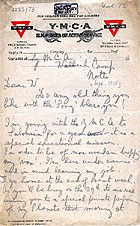 Letter from Gustav Holst, 1918 (MS Gen 1350/73)
Manuscripts (unnamed collections)
In addition to the manuscripts and archive material found within our named collections, eg MS Hunter, there are over 1400 collections in a general sequence, shelf-marked MS Gen. The material in this 'collection of collections' ranges widely in date, format and extent, from individual items through to extensive archive collections comprising hundreds, sometimes thousands, of documents. Examples include:
papyrus from Roman Egypt (MS Gen 1026)
15th century illuminated Book of Hours (MS Gen 288)
papal bull of Adrian VI, 1523 (MS Gen 531/2)
collection of Covenanter sermons (MS Gen 32, 1009)
student lecture notes from the 17th century onwards (MS Gen various)
large collections of autograph correspondence including letters written by Mozart, Voltaire, Giuseppe Mazzini and Gustav Holst (MS Gen various)
papers of John, William and Allen Thomson regarding 18th and 19th century medical education and practice (MS Gen 1476)
Most of these collections were acquired as donations.
How to find material in the MS Gen sequence
Browse a list of the collections by searching for the call number MS Gen in the Manuscripts Collection search.
Find particular items by searching for the call number MS Gen in the Manuscripts Document search, combined with Word (or Phrase) in Content and relevant limits eg, Year after and before, Language.
The following publications discuss some of the MS Gen collections in more detail:
Neil R. Ker: Medieval manuscripts in British libraries, vol. 2 (Oxford, 1977), pp. 871-933. Includes more detailed descriptions of manuscripts than are available on the manuscripts search records.
Jack Baldwin: "Glasgow University Library's manuscripts: the non-Hunterian collections", The Bibliotheck, 8 (1977), pp. 127-155.
James Robson: "Catalogue of the oriental manuscripts in the Library of the University of Glasgow", Studia semitica et orientalia, 2 (1945), pp. 116-137.
Nigel Thorp: The glory of the page: medieval and renaissance illuminated manuscripts from Glasgow University Library (London, 1987). Exhibition catalogue featuring several MS Gen items.
See also these web exhibitions featuring material from the MS Gen collections:
Quick Links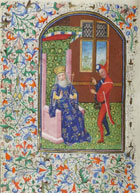 15th century Book of Hours (MS Gen 288)

18th century journal (MS Gen 1354/22)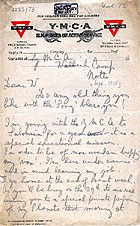 Letter from Gustav Holst, 1918 (MS Gen 1350/73)