Quick Links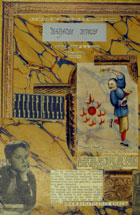 From inside cover of scrapbook No. 11 (MS Morgan C/11)
Edwin Morgan Papers
Papers of the renowned Scottish poet Edwin Morgan (1920-2010) including biographical material, scrapbooks, papers relating to his academic career, drafts of poems and translations (1936-2005), correspondence (1946-2009), reviews, essays and talks (1947-2003) and subject files relating to radio and television (1951-2000), theatre projects (1980-2006), poetry readings and tours (1950s-2000s). The papers also include correspondence with his publishers including Carcanet Press and Mariscat Press.
Over 900 holograph poems and 16 scrapbooks were purchased from the poet in 1981 with financial assistance from the Scottish Arts Council. Morgan subsequently donated several thousand additional papers to the Library.
Morgan studied and taught at the university, graduating in English Language and Literature and eventually becoming titular Professor of English from 1975 to 1980. He was Poet Laureate for Glasgow, 1999 to 2005. In February 2004 he was appointed as the first "Scots Makar" or National Poet, by Scotland's First Minister.
How to find material in the Edwin Morgan papers
For the online catalogue of the collection see MS Morgan. Please contact Special Collections in advance regarding access.
Explore aspects of the collection through our Edwin Morgan blog posts.

Edwin Morgan's scrapbooks: these have been the subject of a research project in association with CREATe, exploring the impact of copyright legislation on digitisation. There is also a virtual exhibition which discusses their origins and purpose and a detailed commentary on selected pages (via flickr).
Many of Morgan's publications can be found in our Scottish Poetry collection
Related material elsewhere
Edwin Morgan gifted his personal art collection to The Hunterian, University of Glasgow.
Edwin Morgan's personal library (books that he owned) is held by Special Collections in the Mitchell Library, Glasgow.
An extensive collection of Edwin Morgan's own publications (in books, magazines, newspapers and ephemera) is held by the Scottish Poetry Library, Edinburgh.
The archive of Carcanet Press is held by Special Collections, University of Manchester Library.
Quick Links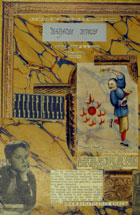 From inside cover of scrapbook No. 11 (MS Morgan C/11)