Quick Links

Printer's ornament incorporating crest of the University of Glasgow, 1730. (Sp Coll Mu21-c.37)
Scottish Wheel Binding, late 18th century. (Sp Coll Bm5-f.6)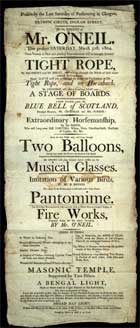 Advertising poster printed by Bell and Son, 1804. (Sp Coll Eph E63)
Historical Bibliography
Our outstanding collections are a wonderful resource for researching all aspects of historical bibliography and the history of the book. They include:
one of the best collections of15th century books (incunabula) in a UK academic library
10 books printed by William Caxton (1422?-1491)
one of the finest 18th century libraries to survive intact
excellent examples of fine bindings, dating from the 15th to the early 20th century
extensive collections of ephemera, University of Glasgow press publications and Glasgow imprints
This page lists:
Collections of general interest for historical bibliography
The following web exhibitions and course resources highlight significant material:
Searching for printers and provenance
The printers, place and provenance index can be searched to find books produced by a specific printer or which were printed in a specific place and at specific dates or which once belonged to a particular person or institution. For example:
to find books printed by William Caxton, type "Caxton" into the search box
to find books produced in Venice in the 16th century, type "Venice 15" into the search box
to find books produced in Paris in 1610, type "Paris 1610" into the search box
to find out if we have any books that once belonged to Charles Dickens, type "Dickens" in the search box
The following web exhibition highlights significant material:
Incunabula
The following collections hold our highest concentrations of 15th century books (incunabula): Euing, Ferguson, Hamilton, Hunterian, Murray, Trinity College Library and Veitch.
See our Incunabula Project for illustrated records of some 1000 books with provenance, printing and place indexes. NB: this project is currently in progress.
The following book of the month articles feature 15th century books:
Ephemera
We have excellent collections of ephemera. See the following:
The following web exhibitions and course resources highlight items of ephemera:
Fine Bindings
For fine bindings see, particularly, items in the following collections:
Some examples are highlighted in the following web exhibition:
If you know the name of the binder you are interested in, use our provenance search. For example:
to find any books we have recorded as having been bound for Grolier, type "Grolier" into the search box
Other sources of information:
MS Gen 759: James Basil Oldham, Notes on bindings in the Hunterian and general libraries in Glasgow University (1938). This is an unpublished typescript listing of bindings which has since been supplemented by further information from various researchers.
Manual listings and reference guides available in the Special Collections reading room. For example, there are several sheaf binders that record interesting examples of bindings, fore-edge paintings etc.
NB: Information about bindings is now recorded in the "local" note field of catalogue records for books; however, this information is currently difficult to extract in the rare books search.
Quick Links

Printer's ornament incorporating crest of the University of Glasgow, 1730. (Sp Coll Mu21-c.37)
Scottish Wheel Binding, late 18th century. (Sp Coll Bm5-f.6)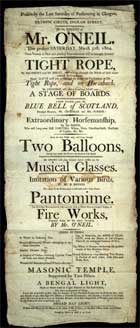 Advertising poster printed by Bell and Son, 1804. (Sp Coll Eph E63)