Quick Links
Programme cover, Empire Theatre, 1928 (MS Farmer 616)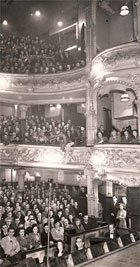 Metropole Theatre, c 1950 (STA Ae10/3a-c))
Performing Arts
Our most significant resource relating to the Performing Arts is the Scottish Theatre Archive (but see also the subject page for Music and material relating to Television.)

The STA is an extensive collection, containing material dating from the 19th century onwards, to which contemporary theatre companies continue to donate material. There is a dedicated website and search facility. For more information, see:
The following collections may also be of interest:
Eleonora Duse Papers: over 1,000 items relating to the Italian actress Eleanora Duse (1858-1924)
Farmer Papers: including material on variety theatre in Scotland, late 19th to 20th centuries
Scarfe-La Trobe: over 1000 Spanish plays dating from the 17th to the end of the 19th century
Other relevant material may be found across our collections. For example, we hold many texts of plays dating from the Renaissance period onwards, including a copy of Shakespeare's First Folio (there is a short film about this available via the Library's YouTube channel): these may be found by using the rare books search. Use the manuscripts search to find unpublished material (including notebooks, papers, photographs and drawings).
Television
We hold significant material relating to the early development of television and the role of University of Glasgow alumnus, John Logie Baird:

Benjamin Clapp papers: including logbooks and earliest surviving 'phonovision' disk, 1927
Philip Hobson papers: relating to Baird Television Development Company Ltd 1928-1931

Television: the world's first television journal (published 1928-1935)
Web exhibitions featuring items relating to the performing arts:
Quick Links
Programme cover, Empire Theatre, 1928 (MS Farmer 616)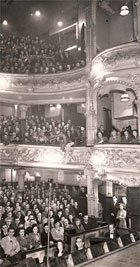 Metropole Theatre, c 1950 (STA Ae10/3a-c))