Quick Links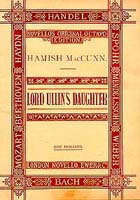 MacCunn Collection
Hamish MacCunn (1868-1916), was born in Greenock. He showed musical talent at an early age and when only 15 won a scholarship for composition to the Royal College of Music in London. Following his four years there, he taught privately and at the Royal Academy of Music, during which time he composed a large number of works.
Compositions and Correspondence
The collection of manuscript and published works in Glasgow was donated to the University by MacCunn's widow in 1951. It includes the published vocal score of Jeanie Deans and the autograph score of Diarmid, the two operas by which he was best known during his life; over 50 published songs, part-songs and cantatas, and almost as many unpublished, as well as a small number of orchestral, chamber and piano pieces, about half of which are unpublished. The Library holds the published full score of probably the only work by which he is well-known today, the overture Land of the mountain and the flood. Some 50-odd letters sent by Hamish MacCunn to Janey Drysdale, sister of the composer Learmont Drysdale , are to be found in the Farmer Collection.
How to find material from the MacCunn Collection
Quick Links