Quick Links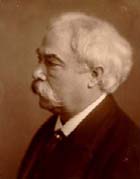 Photograph of Hyllested pasted in at beginning of Ca16-y.15
Hyllested Collection
This small collection is made up of compositions by August Hyllested.
Hyllested was born in Stockholm in 1856, became a concert pianist, and held a number of teaching posts in various parts of the world over many years - United States, Scotland, Denmark and Sweden. He retired to Blairmore, Argyll, and died there in 1946.
In 1949 his widow presented to the University of Glasgow Library a number of his unpublished works, all undated: 10 songs and 1 choral work, 2 orchestral works, 3 piano pieces and 2 unfinished compositions. With this donation came some letters, including one from each of the following: Eugen d'Albert, Sir Edward Elgar, Edvard Grieg, Sir Henry Wood, and one to his father-in-law from Franz Liszt, from whom Hyllested had lessons.
How to find material from the Hyllested Collection
Browse through a list of titles or use the manuscripts search to find material (eg. type Hyllested in the descriptions box to access a list of item descriptions)
Quick Links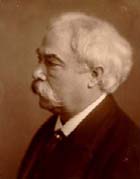 Photograph of Hyllested pasted in at beginning of Ca16-y.15