Quick Links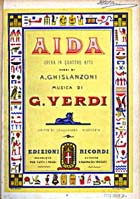 Title-page of vocal score of Verdi's Aida (Milan: 1873?): Sp Coll Cb2-c.49
Stillie Collection
A collection of 750 volumes of musical scores and music books, bequeathed to the University of Glasgow by Thomas Logan Stillie (1832-1883) in 1884.
For several years during the 19th century, Ayrshire-born Stillie was the music critic for the Glasgow Herald. His library boasts a range of music books on subjects including the theory and philosophy of music, tutoring, and music history and composition. The library also includes a number of concert programmes.
The much larger group of musical scores form a comprehensive collection from the standard repertory of the time - oratorios, part-songs, operas, instrumental and chamber music, and symphonies. There are also four volumes of newspaper cuttings of Stillie's reviews and articles on music, mostly from the Glasgow Herald but including some from other newspapers.
How to find items in the Stille Collection
Quick Links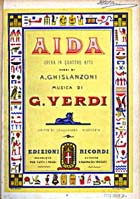 Title-page of vocal score of Verdi's Aida (Milan: 1873?): Sp Coll Cb2-c.49