Quick Links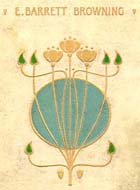 Detail from front cover of Morris 90
Morris Collection
Over 100 books designed by Talwin Morris (1865-1911) and some related works.
Morris became art director for the Glasgow publishing firm Blackie & Son in 1893, at a time when the "Glasgow style" was gaining momentum. A friend and patron to the leading figures of the movement in its early years - Charles Rennie Mackintosh, Herbert McNair, and the sisters Frances and Margaret Macdonald - Morris did a great deal to spread the influence of the Glasgow style in commissioning and designing book covers for popular titles which were shamelessly aimed at the mass market; much of Morris' work, for example, was for Blackie's series of children's titles. Characteristics of Morris' designs include dots, architectural frames, whiplash lines and stylised flowers - all motifs favoured and instantly recognizable as being of the Glasgow style.
The original collection was donated by Robert Gibbs (Senior Lecturer in the History of Art at the University of Glasgow) and additions are made whenever possible.
How to find material in the Morris Collection
See also the following book of the month featuring an item from the Morris collection:
See also the Morris Collection at Glasgow School of Art, available online via VADS.
Quick Links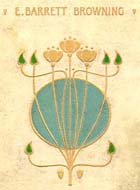 Detail from front cover of Morris 90