Quick Links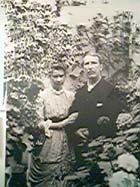 Eliza and James Paterson in formal dress. (MS Paterson EU3)
James Paterson Museum Archive
Photographs, lecture notes and correspondence of the artist James Paterson (1854-1932) and members of his family, formerly housed in the James Paterson Museum, Moniaive.
Paterson's Life
James Paterson was born into a prosperous Glasgow textile family. On leaving school he entered the family business but following each working day he would study into the early hours of the morning at the Glasgow School of Art, where he was tutored by A. D. Robertson (1807-1886), one of Glasgow's finest watercolour teachers. Paterson spent all of his spare time sketching and in 1876, at the age of 22, he set off for Paris with an allowance from his father, to study in the ateliers of Jacquesson de la Chevreuse (1839-1903) and Jean Paul Laurens (1838-1921).
In 1879, James made his first visit to the village of Moniaive in Dumfries & Galloway, Scotland, where he found the landscape appealing and where he painted 'en plein air' as in France. He was so taken by the countryside that after his marriage to Eliza Ferguson in 1884, he set up home in a cottage gifted to the married couple as a wedding present by the artist's parents. James spent over 22 years in the area painting the Nithsdale and Ayrshire hills, the Solway Firth and the local river and burns, capturing the elusive colours and light inherent in the Scottish countryside. During this period he formed friendships with a group of artists - Sir James Guthrie (1859-1930), E. A. Walton (1860-1922), W. Y. McGregor (1855-1923), E. A. Hornel (1864-1933) and others - who came to be known collectively as 'The Glasgow Boys'.
Academic recognition was always important to James, and he took his official duties very seriously. He was elected to the Royal Scottish Society of Painters in Watercolour (RSW) in 1885, became an associate member of the Royal Scottish Academy (ARSA) in 1896, and was awarded full membership of the Royal Scottish Academy (RSA) in 1910. He became President of the Royal Scottish Academy in 1922 and served as Librarian between 1910 and 1924, and Secretary from 1924 until a few weeks before his death in January 1932. He moved to Edinburgh in 1906, and following his wife's death in 1910, took on more public responsibilities.
The James Paterson Museum
A museum devoted to Paterson's life was founded by his granddaughter, Anne Paterson Wallace, one of the six family artists following in his footsteps. Located in Moniaive in the house where Paterson's cook, Miss Black, lived, its artefacts were donated by the direct descendants of his family. It included the personal collection of Anne Paterson Wallace, with over one thousand photographic images by Paterson of his family, friends, and art works, together with his own records, correspondence, documents and letters from his later life in Edinburgh. The museum closed in 2003 and the archives were donated to the University of Glasgow Library in April 2003.
There are a number of paintings by Paterson in the collections of the Hunterian Art Gallery: search the Art Gallery's on-line catalogue for details (NB: these paintings are not necessarily on public display: please contact Anne Dulau for further information).
Please note that access to the original photographic material in this archive is strictly by appointment only and requires advance (a minimum of 24 hours) notice. Please contact the Special Collections Reading Room: 0141 330 6767 or special@lib.gla.ac.uk
How to find material from the James Paterson Museum Archive
See also the following 'book of the month' article that features the James Paterson Museum Archive
Quick Links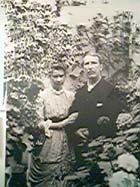 Eliza and James Paterson in formal dress. (MS Paterson EU3)