Quick Links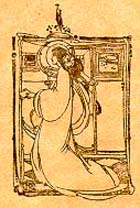 Detail from cover of 1903 exhibition catalogue designed by J.M. King (MS Gen. 1654/1196)
Jessie Marion King Papers
The papers of the artist Jessie M. King (1875-1949) and her husband Ernest Archibald Taylor (1874-1951). Included is correspondence, press-cuttings, exhibition catalogues, and printed books.

Jessie Marion King was born in Glasgow in 1875 and studied at Glasgow School of Art from 1892-1899. Her long and varied professional career began when, in 1899, a Berlin department store owner commissioned her to design a range of items, requesting that they be done in the new Scottish style. Book design and illustration dominated her early work, but her talents extended over many areas: posters, bookplates, book covers, jewellery, ceramics, wallpaper, fabrics, murals, interior design, and costumes. From 1902, King taught Book Decoration at Glasgow School of Art, influencing others with her sense of design. In 1908 she married fellow artist and Glasgow School of Art alumni Ernest Archibald Taylor, who worked in as many different media as she.
In 1910, King and Taylor moved to Paris where they lived until the outbreak of World War I. Taylor was a professor at the Studio School of Drawing and Painting, and, together with King, they ran a studio gallery called the Shealing Atelier of Oil and Watercolour Painting, Design and the Applied Arts. They spent their summers on the Isle of Arran, where they ran a summer sketching school. Returning to Scotland in 1920, they settled in the artist community of Kirkcudbright, where King established Green Gate Close, an important centre for women artists. King was the creative force in the close and maintained a studio there where she worked on ceramics. Sometimes, she and Taylor would collaborate on furniture or interior design. King experimented with batik, a wax-resist technique that she learned while in Paris, applying it to fabric and clothing. She was instrumental in introducing the technique to Scotland by giving classes at Green Gate. Many of her scarf designs were bought by the London department store, Liberty's. She died on 3 August 1949 in Kirkcudbright.
How to find material from the Jessie Marion King Papers
Quick Links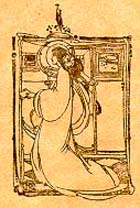 Detail from cover of 1903 exhibition catalogue designed by J.M. King (MS Gen. 1654/1196)