Quick Links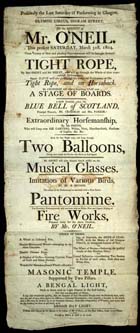 19th-century poster for the Olympic Circus on Ingram Street in Glasgow (Ephemera E63)
Smith Collection
A large collection of books, pamphlets and ephemeral materials, covering a wide range of subjects including archaeology and the history of Glasgow, compiled by John Smith, Youngest, of Crutherland (1784-1849), the Glasgow bookseller and grandson of the founder of his firm.
Smith was given the honorary degree of LL.D by the University in 1840; in 1842 he announced the bequest of his "runs of publications" from learned societies, and his volumes of ephemera. These came to the Library on Smith's death in 1849. The collection comprises:
Books - 350, or so, including copies of the publications of the various literary and archaeological societies with which Smith was connected, including the Percy Society and the Abbotsford Club.
Pamphlet volumes - 118 bound volumes of rare Glasgow pamphlets.
Ephemera - 5,000 or so ephemeral items relating to the history of Glasgow, including posters, advertisements, tickets and other miscellaneous items. Smith's ephemera differs from similar collections in the Library in that it consists almost entirely of items sent to him in the course of his career as bookseller, town councillor, estate owner and citizen. He originally bound these into large scrapbook-type volumes; but, a decision was taken in the late 20th century to disbind them and arrange the ephemera into boxes according to theme.
How to find material in the Smith Collection
Smith's ephemera is housed in Special Collections but is not yet available on the rare books search. However, there is a subject index to the collection in a series of sheaf binders available in the Special Collections reading room (ask staff for details). Also, Special Collections staff can search for specific items in a (staff only) database on your behalf.
The printed material (including the pamphlets) is housed in the Library Research Annexe (nb. a small number of the older pamphlets in this collection have been transferred to Special Collections). Browse through a list of printed items in the Smith Collection (shelf-marks BG33 and BG34); browse through a list of the printed pamphlets (shelf-marks BG34-h and BG34-i); or, use the rare books search to locate a specific item. Once you have located an item, it can be ordered from the Library Research Annexe using an online form.
See also: The Ephemera Collection.
See also: The ephemera of John Smith by Adam McNaughton, which features digitised examples of items in the collection.
Quick Links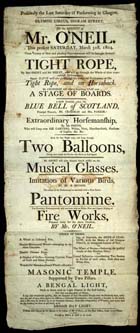 19th-century poster for the Olympic Circus on Ingram Street in Glasgow (Ephemera E63)