Quick Links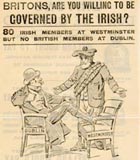 Press cutting from MS Gen 1484/14/74
McFarlane Papers
Papers of Archibald McFarlane (fl. 1884-1924) of J. & A. McFarlane, Albert Works, Cranstonhill, Glasgow.
Archibald McFarlane was an active member of the Glasgow Parliamentary Debating Association, Temple Conservative association and the National Union of Conservative Associations for Scotland, western divisional council.
J. & A. McFarlane were "...manufacturers of mangles, wringers, washing machines, laundry stoves, &c. also domestic joinery, coopery, and wood turnery, and importers of American and Continental goods, contractors to the Admiralty..." according to the Glasgow Post Office Directory of 1903-4; however, these papers relate to McFarlane's keen interest in contemporary issues and politics including Irish Home Rule, tariff reforms and the eight hour day.
The papers, which span the 1880s through to the 1920s, include correspondence, news cuttings, a large collection of Glasgow Parliamentary Debating Association leaflets, Tariff Reform notes for speakers and interesting contemporary political documents.
How to find material in the McFarlane Collection
Quick Links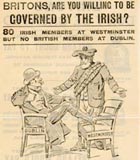 Press cutting from MS Gen 1484/14/74