Monumental Live: Gallery
In 2017 and 2018, Monumental went on tour! We popped up in venues across Glasgow, with free, fun events for all ages.
Browse our photo gallery to follow the Monumental story below.
The Monumental project kicked off in 2017, with a public consultation to gather information on women in STEM from across the country.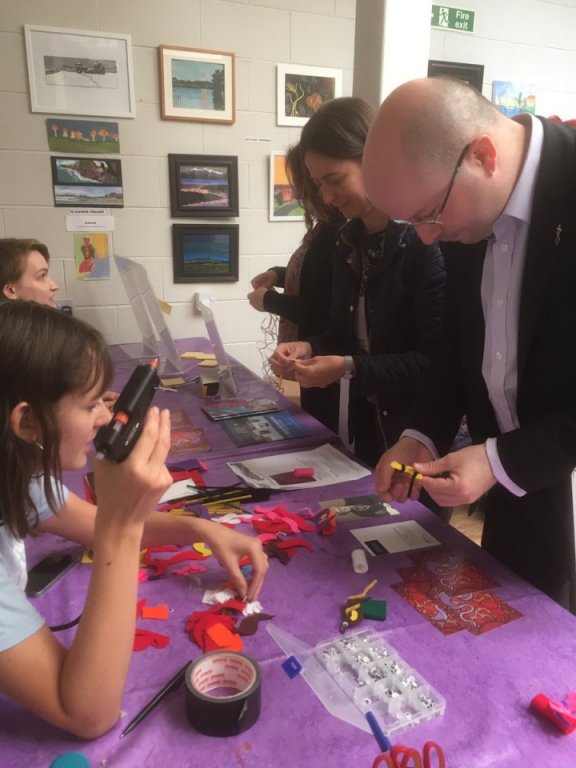 The consultation included a series of community events, giving members of the public the chance to get hands on, while sharing their thoughts on women in STEM. Pictured: Patrick Grady MP and Carol Monaghan MP make some 'cuddly' trypanosomes, linking to pioneering parasitologist Muriel Robertson, as part of Womens Festival Day.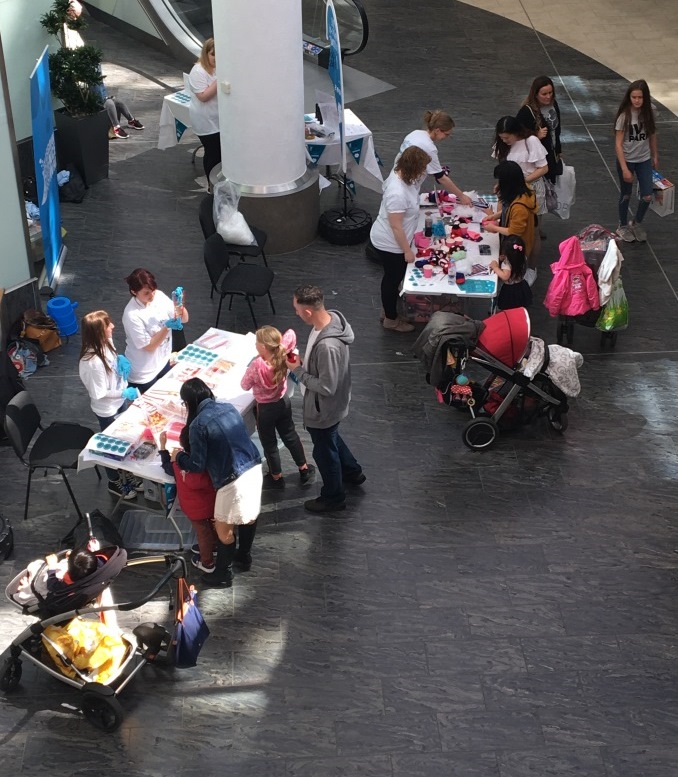 Monumental popped up in community and public spaces, where people wouldn't usually engage with STEM or heritage. Pictured: Monumental at St Enoch Shopping Centre, Glasgow.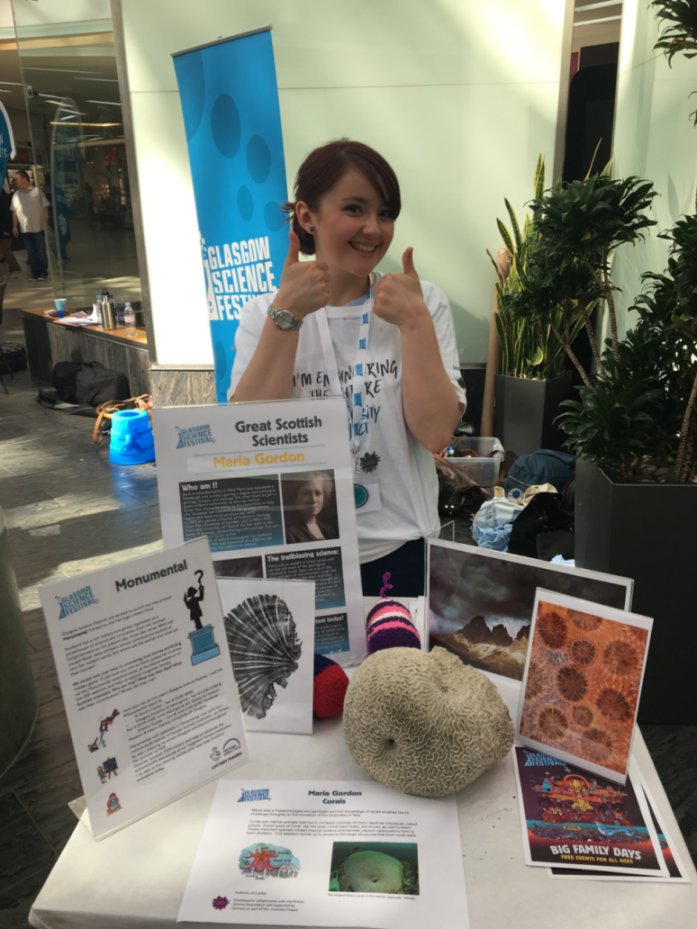 One of our volunteers shows off our coral specimens, on loan from the Hunterian Museum. This display was linked to eminent geologist Maria Gordon who specialised in fossil corals.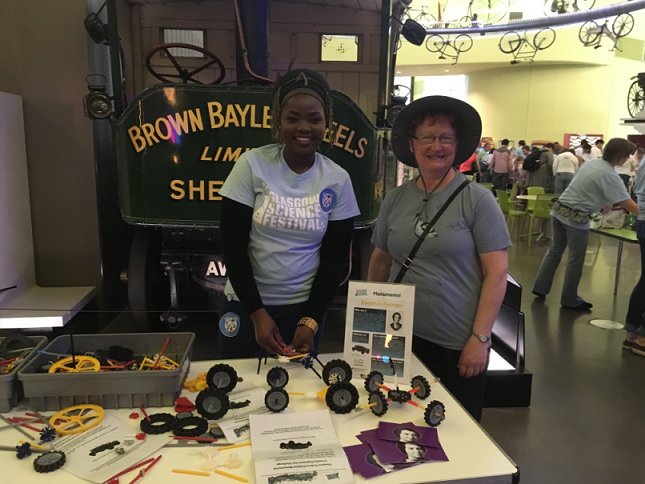 Monumental at the Riverside Museum. Activities were linked to pioneering engineer Dorothee Pullinger. The museum holds one of Dorothee Pullinger's Galloway cars.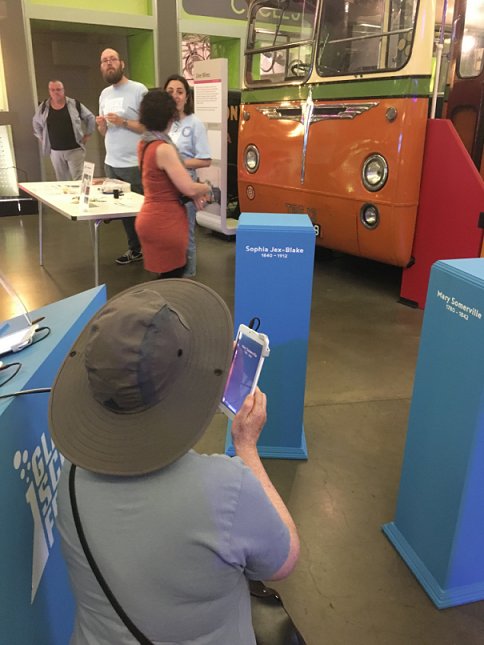 The Monumental Exhibition at the Riverside Museum. This exhibition enabled members of the public to explore Monumental Women in STEM through virtual sculptures, accessed through tablets.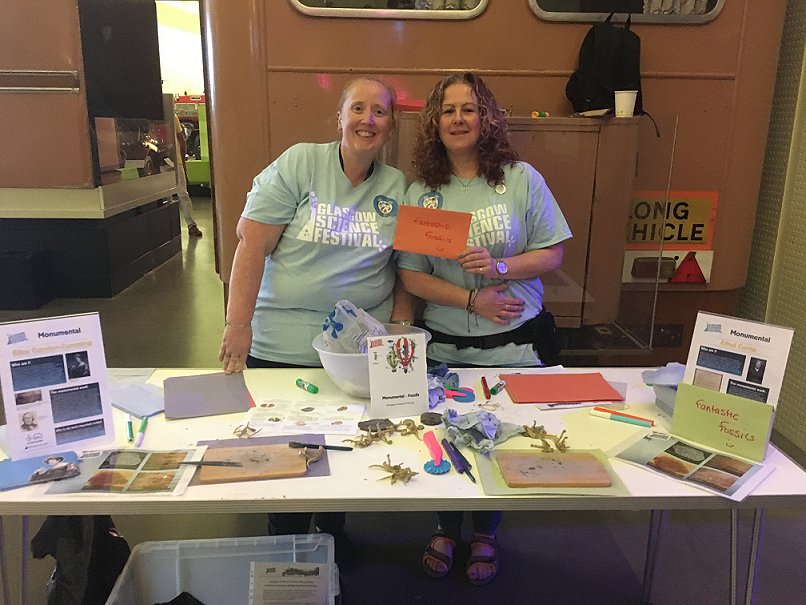 Each of our hands-on activities was linked to a Monumental woman. For example, our make-your-own fossil activity celebrated the work of palaeontologist Eliza Gordon Cumming.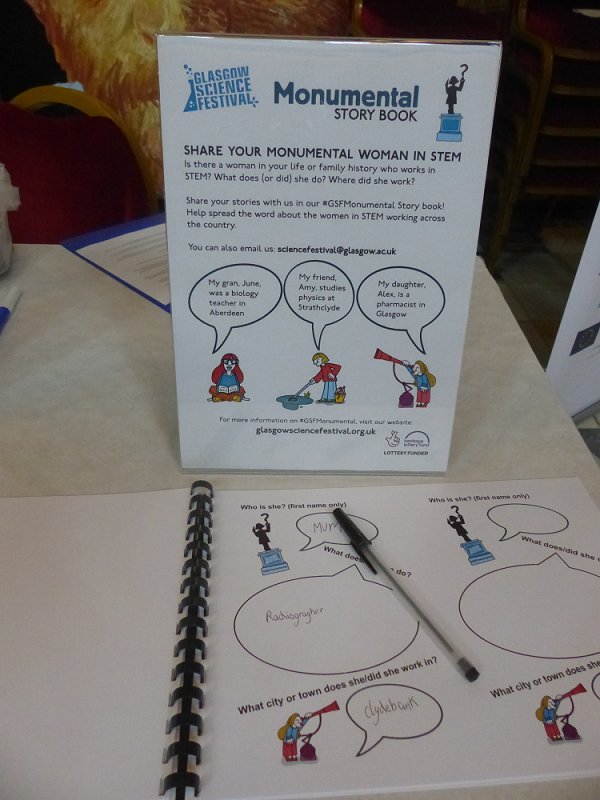 Our 'Fill the Gaps Storybook' invited members of the public to nominate the Monumental Women in STEM in their lives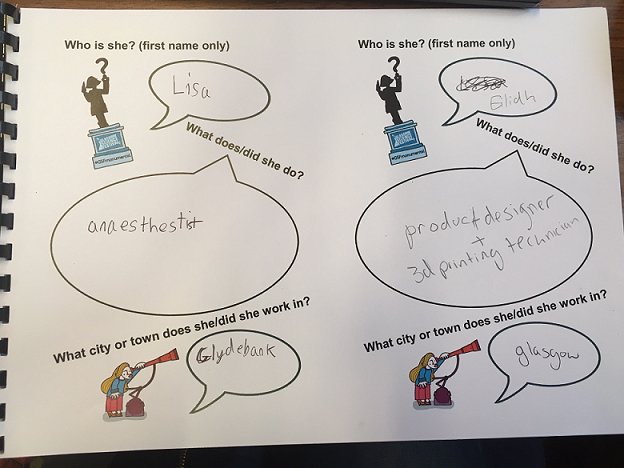 We were delighted to receive 53 nominations of Monumental Women in STEM from the general public.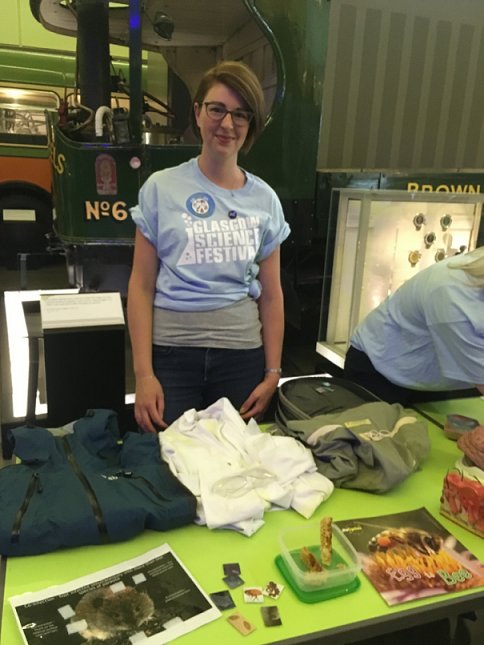 Women researchers working in a variety of fields, from astronomy to zoology, participated in our Monumental Live events. Pictured is Zoology Lecturer, Dr Victoria Paterson from the University of Glasgow.
Monumental Live was supported by fantastic volunteers, including postgraduate researchers and undergradutes working in STEM. Pictured: our team at Pollok Gala Day.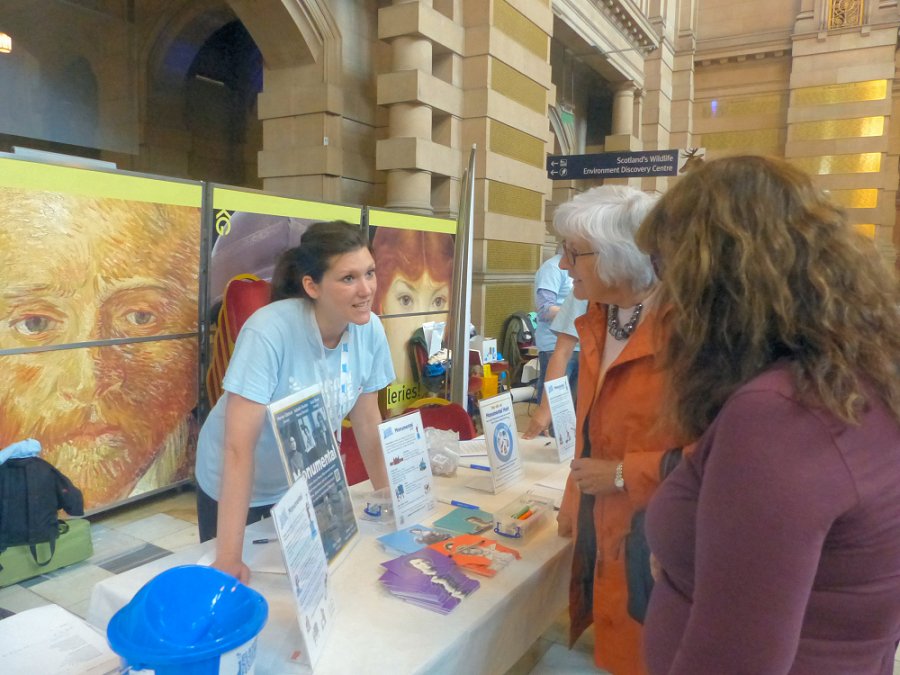 Monumental Live at the Kelvingrove Art Gallery and Museum was a big success. Our 'Monumental Hunt' game encouraged children to search for women at the event who were wearing Monumental badges. After speaking to five women about their STEM expertise, children were awarded a prize. This was a great way to get children and women role models chatting about science.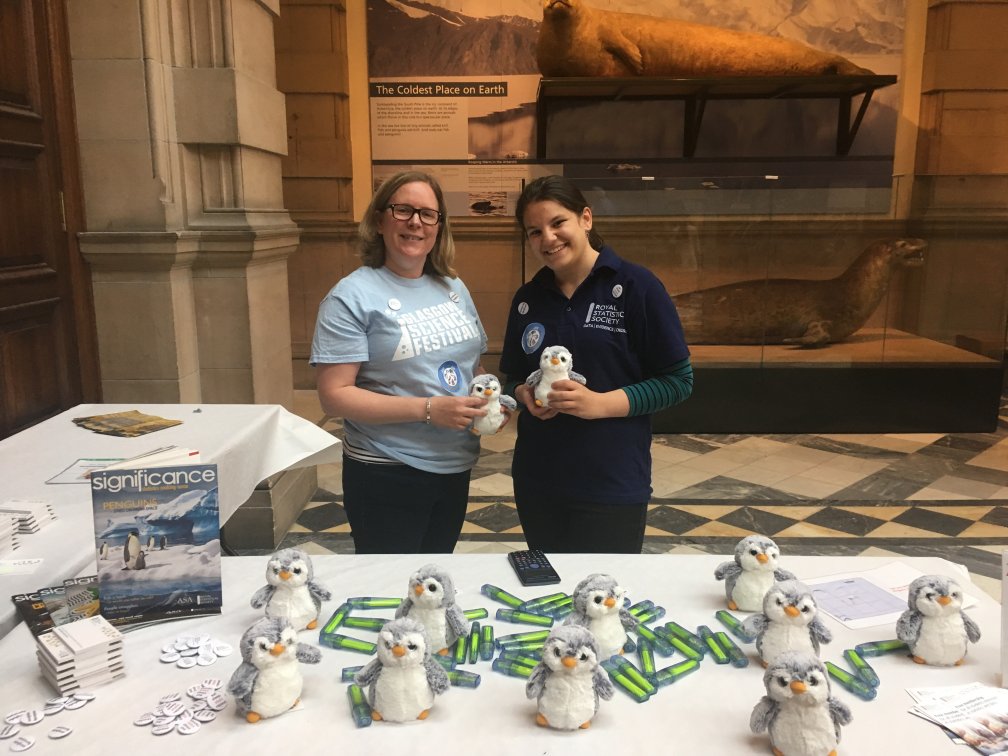 Statisticians wearing Monumental badges as part of the 'Monumental Hunt' in the Kelvingrove Art Gallery and Museum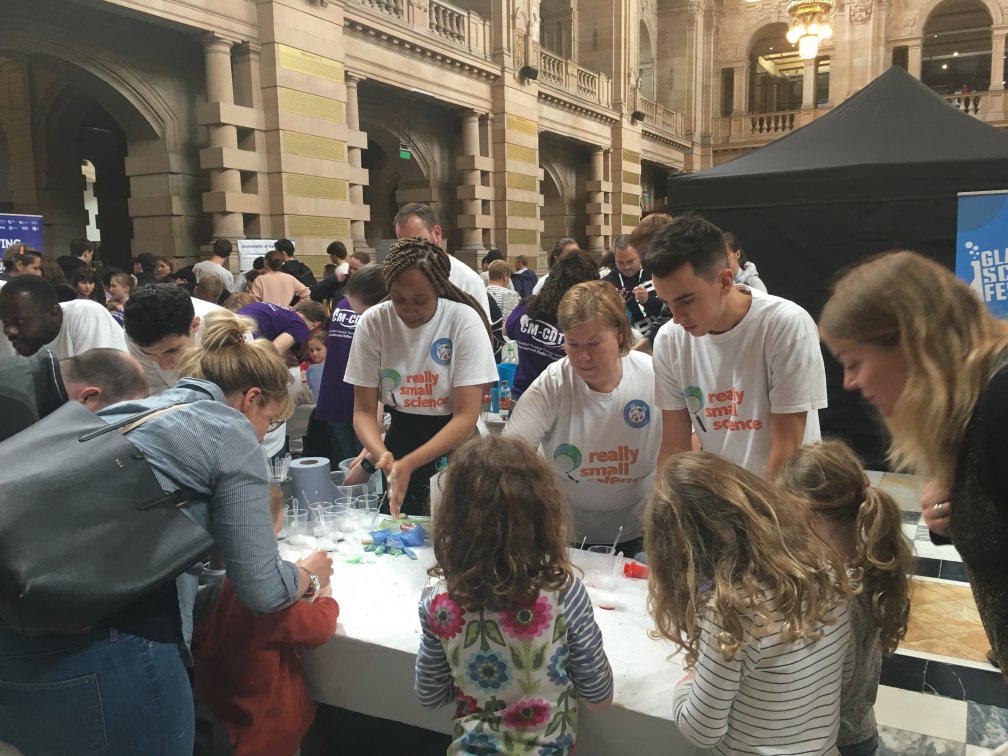 Women in Monumental badges from the Really Small Science team at the University of Strathclyde, enthusing children through hands-on activities.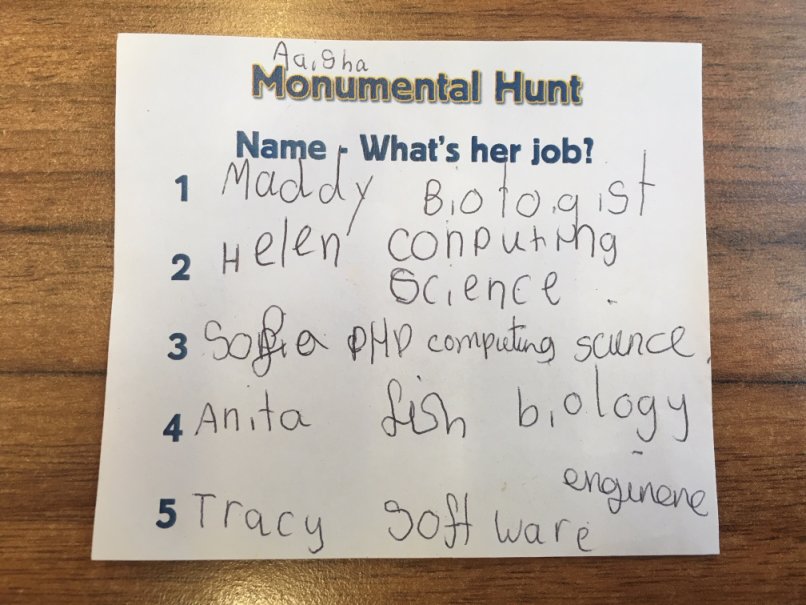 Children were encouraged to speak to at least five Monumental women about their work in STEM.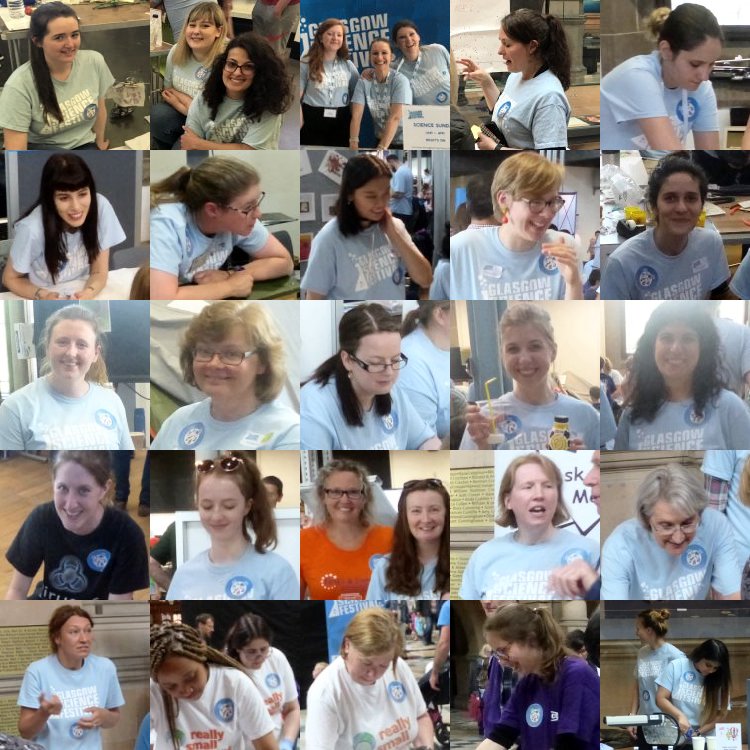 A snapshot of some of the Monumental women who participated in our 'Monumental Hunt' game at public events
A young girl proudly shows off her badge, a reward for completing the Monumental Hunt.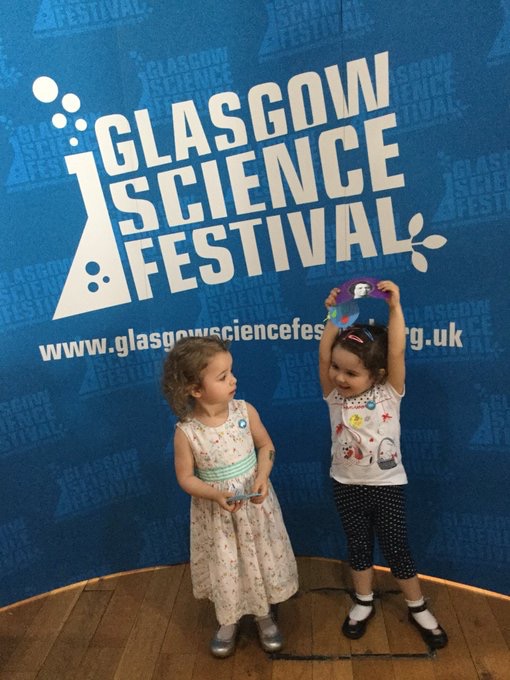 Two young attendees enjoying our Dorothee Pullinger postcards at our University of Glasgow event.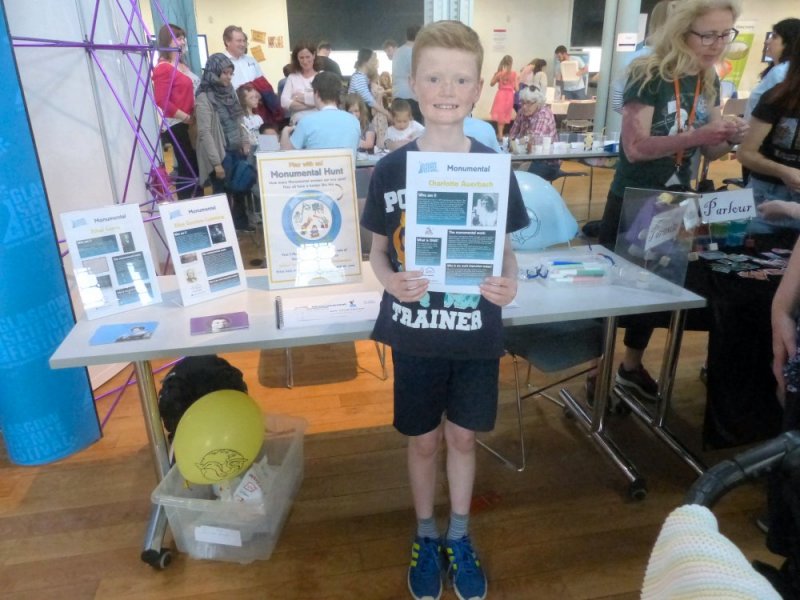 A boy at our University of Glasgow event learning about geneticist Charlotte Auerbach, who discovered that gene mutations in fruit flies can be caused by mustard gas.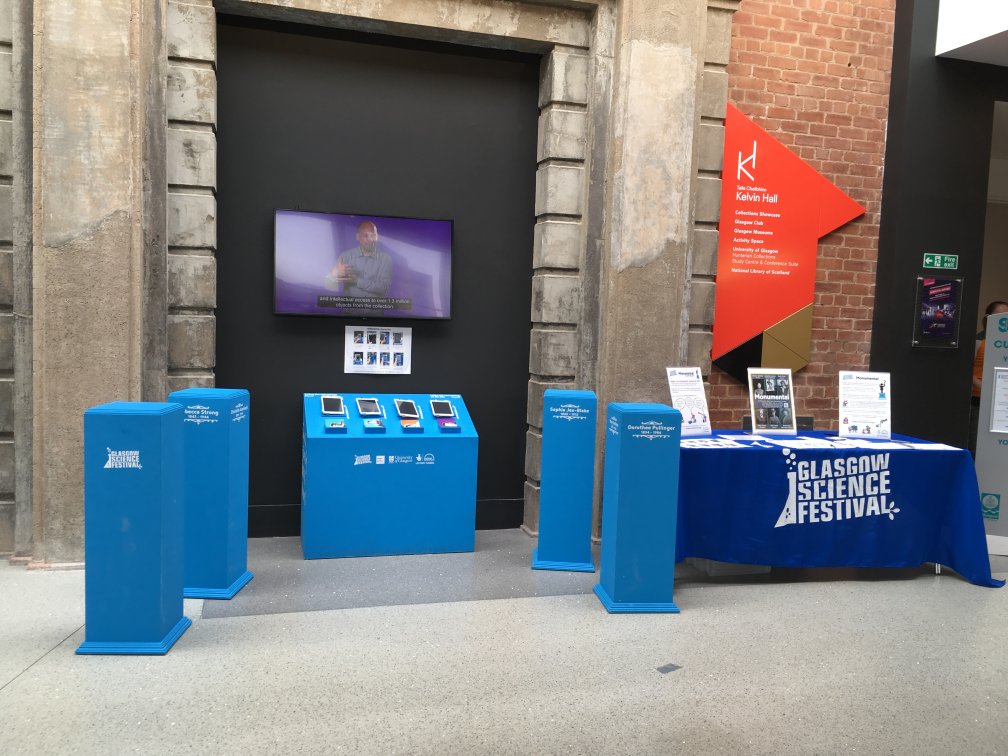 The Monumental Exhibition (pictured here at the Kelvin Hall) was a key part of our Monumental Live tour.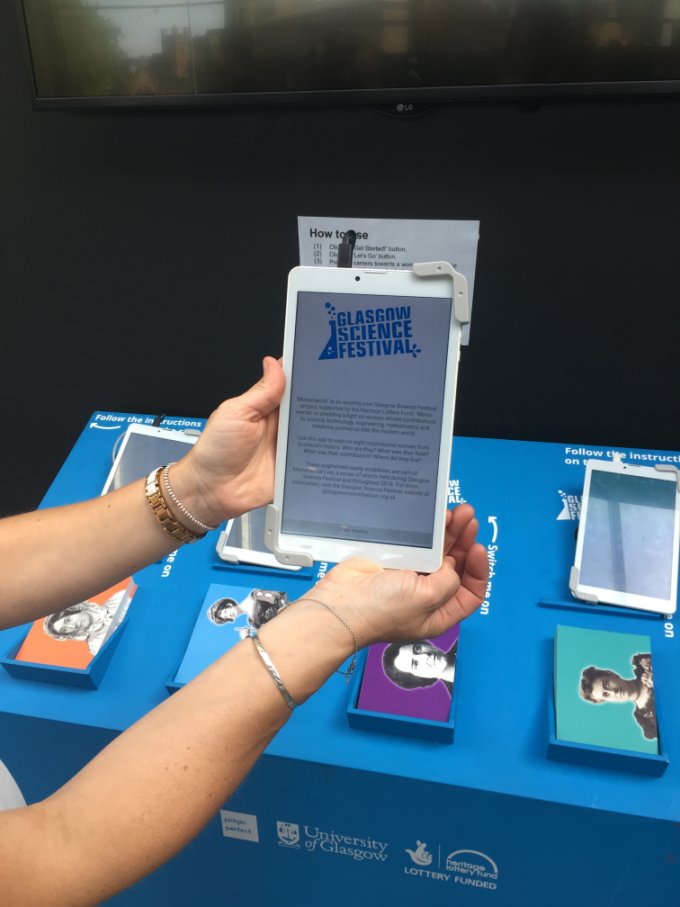 The exhibition featured colourful postcards of Monumental women for members of the public to take away, and interactive tablets.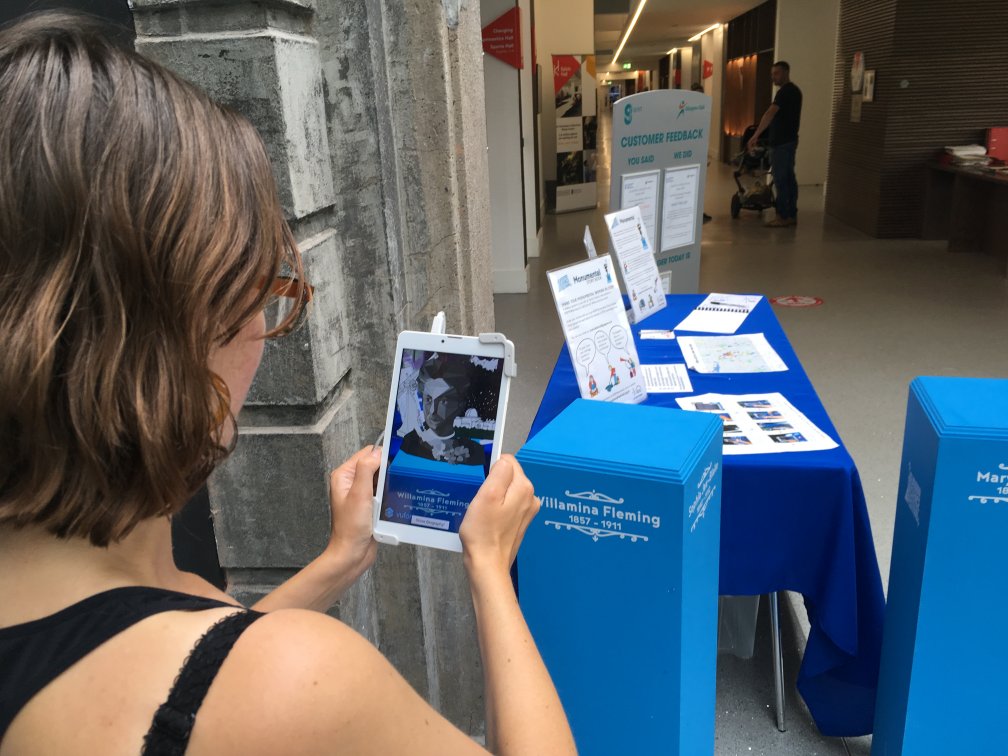 To access the digital sculptures, users simply pointed the tablet towards the name of the woman of interest. Pictured here: astronomer Willamina Fleming.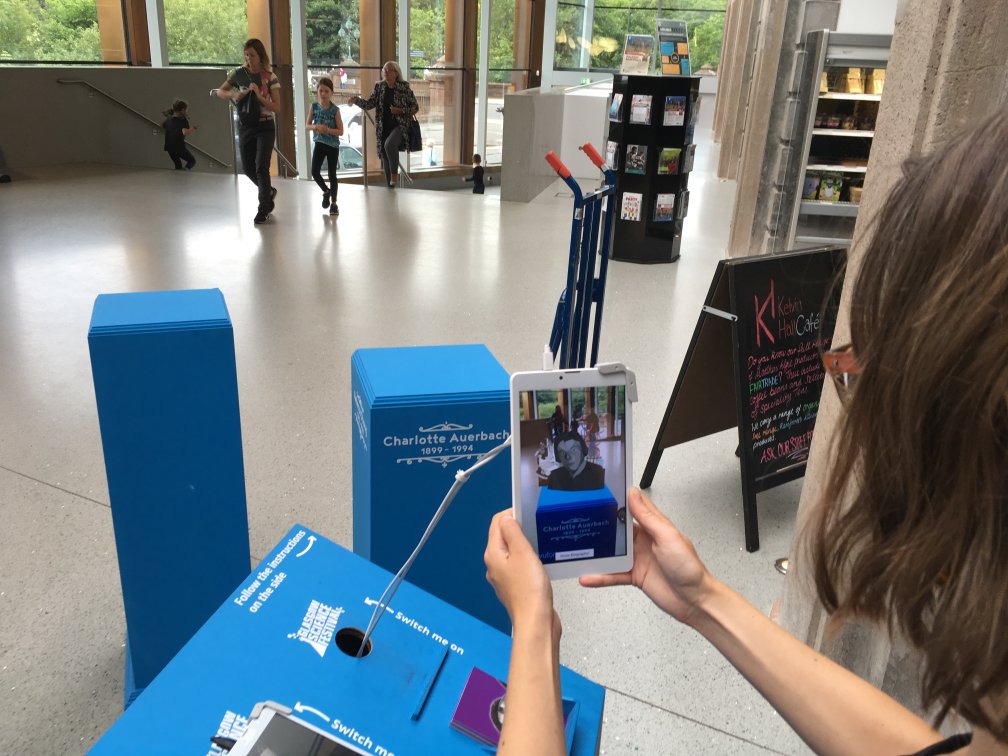 Virtual sculptures and biographies of eight women in STEM were featured in the exhibition, with dozens more profiled on the Glasgow Science Festival website.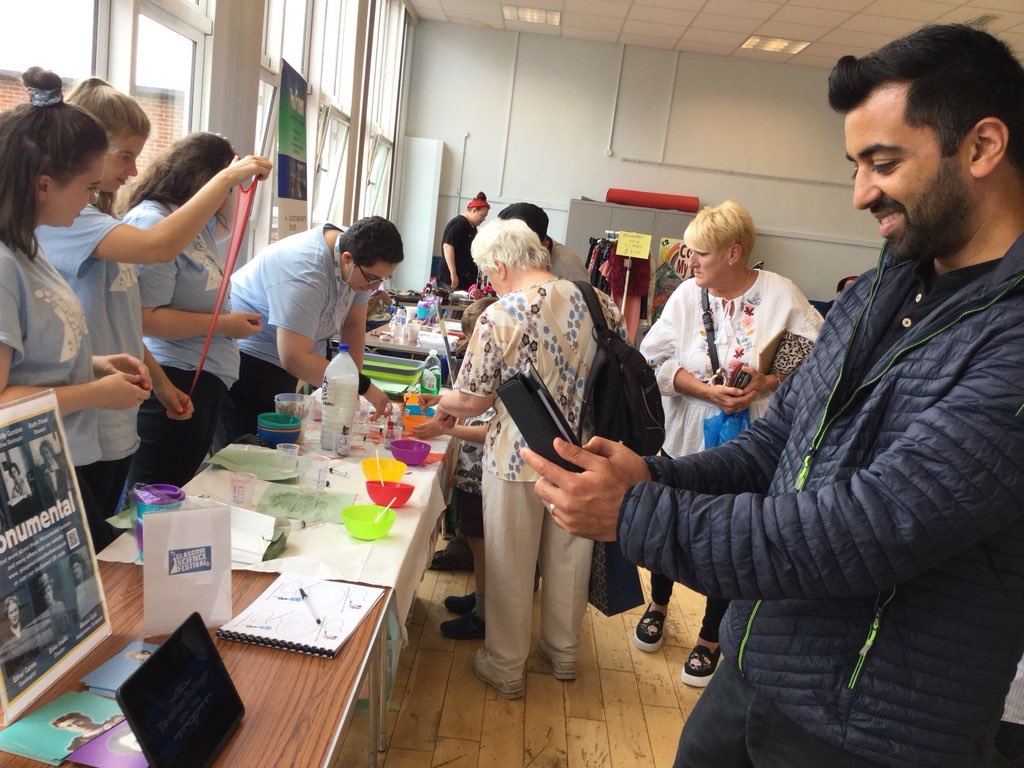 The portability of the exhibition technology meant that we were able to take it on tour to community spaces. Pictured: Humza Yousaf MSP at Pollok Gala Day.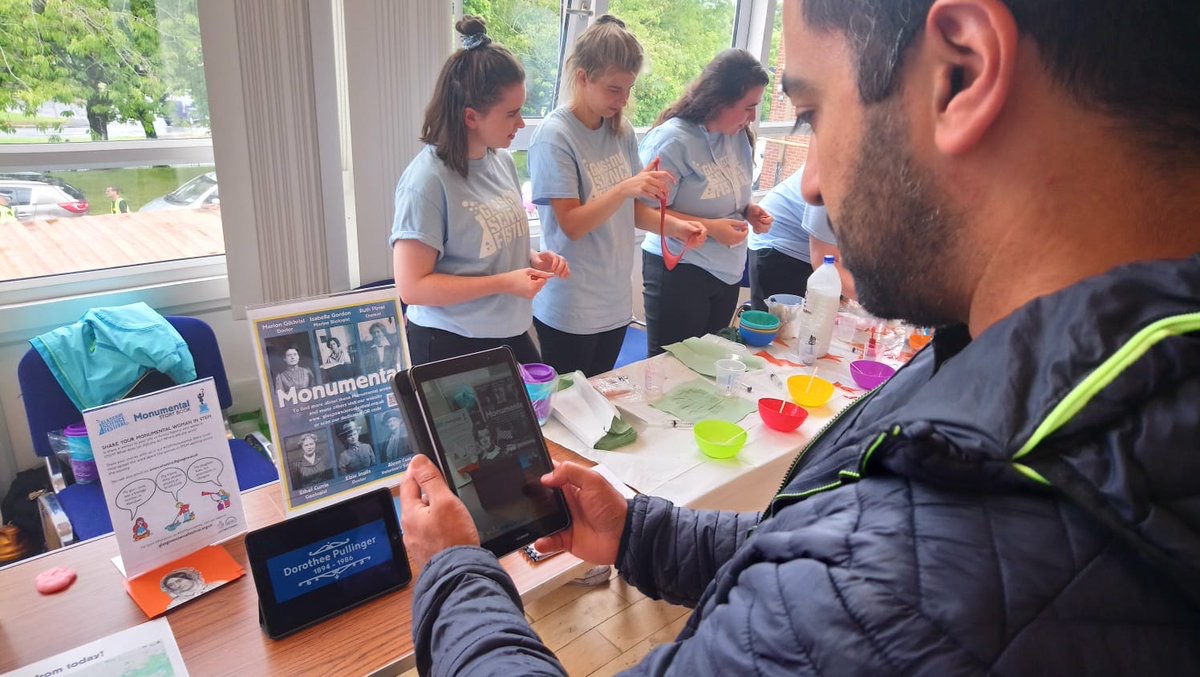 Humza Yousaf MSP learning about pioneering engineer Dorothee Pulilnger. The virtual sculpture is visible on the tablet.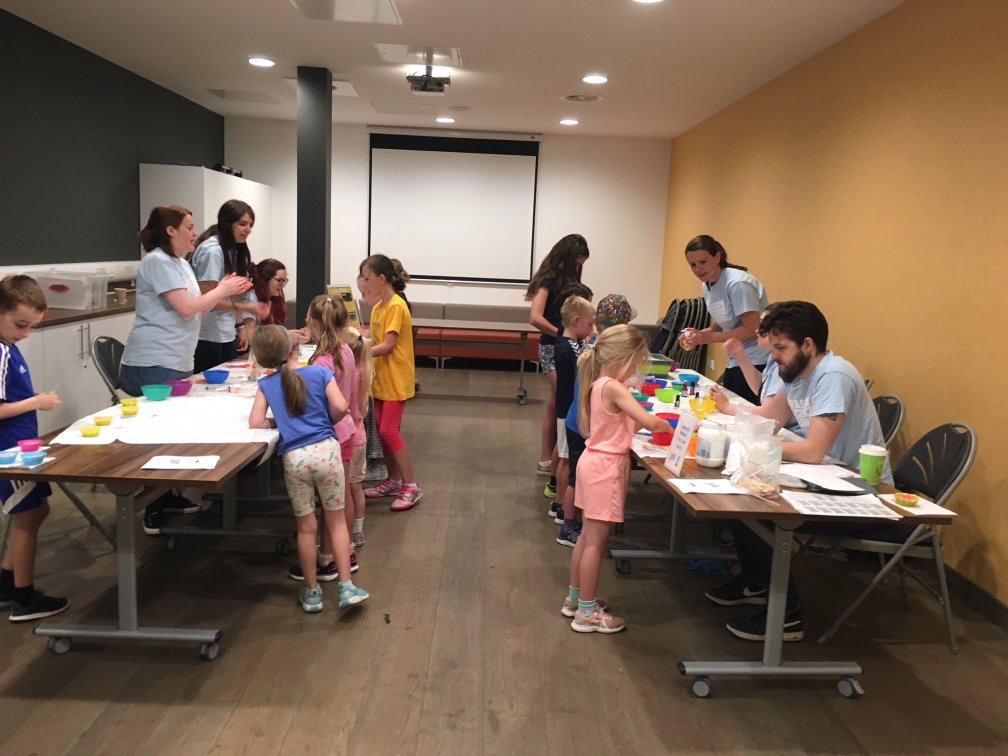 Fostering role models for future scientists and bringing fun, accessible STEM to the community was at the heart of Monumental. Pictured: Lunchtime kids club at the Kelvin Hall.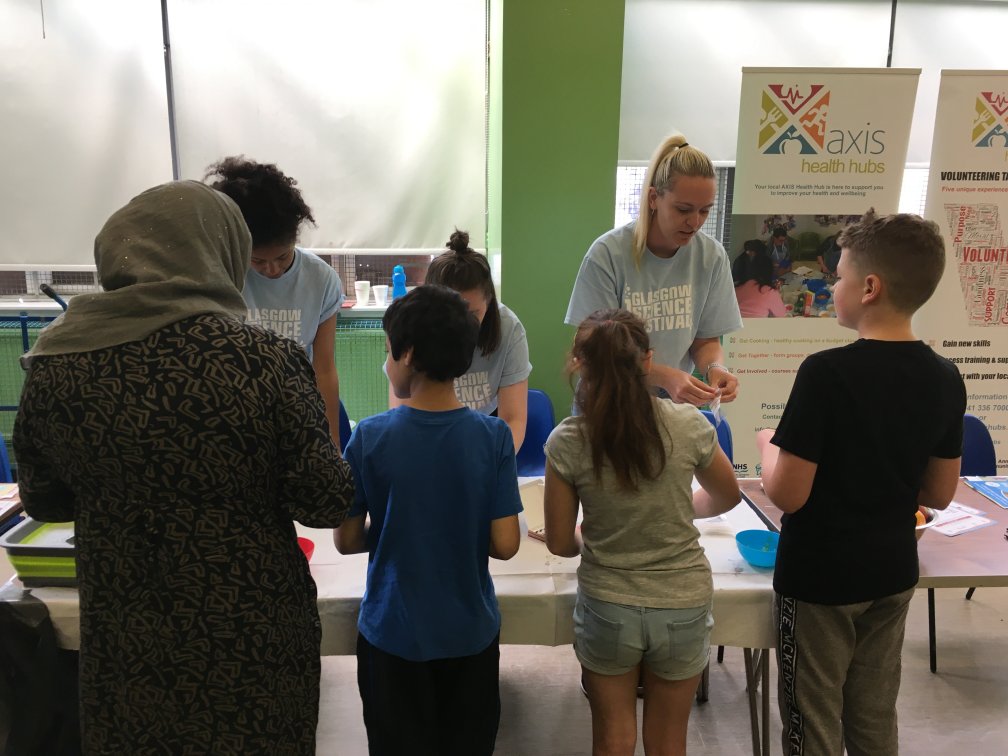 People of all ages enjoyed exploring the Monumental project, while rolling up their sleeves for some fun, interactive science. Pictured: Possilpark Gala Day.
We would like to thank the Heritage Lottery Fund for supporting Monumental, and all the scientists, volunteers, community partners and attendees who made the project such a success!
A special thanks to Catherine Booth, Fergus Mason and Nina Baker for their contributions.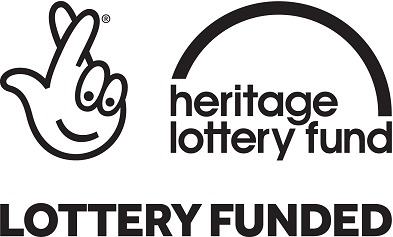 You can explore some fantastic Monumental women in STEM on our website.