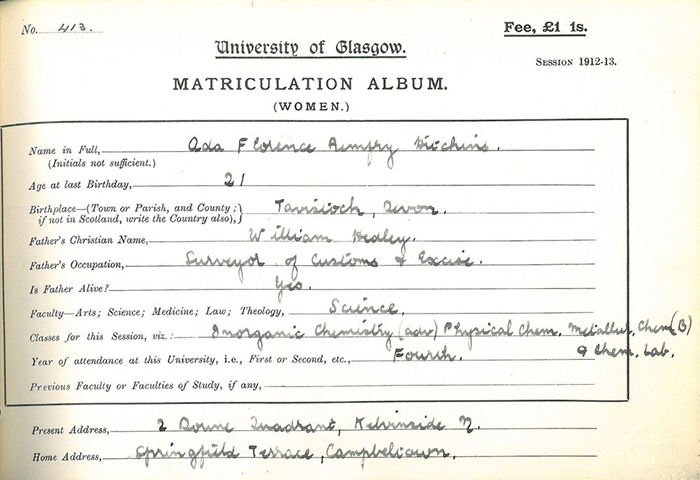 Who am I?
Ada Florence Remfry Hitchins was born in Devon in 1891. She studied Mathematics, Botany, Geology and Inorganic Chemistry at the University of Glasgow - and graduated with BSc with a distinction in Chemistry in 1913.
Image:
Hitchins' matriculation slip - University of Glasgow
I am monumental because...
Hitchins is best remembered as the principal research assistant to chemist Frederick Soddy. She began working with Soddy during her final undergraduate year - and moved with him to the University of Aberdeen in 1915, where she worked as a Carnegie Research Scholar. She worked with Soddy on the establishment of the disintegration theory by proving the growth of radium from uranium. Soddy would later win the Nobel Prize in Chemistry for the discovery of isotopes. Hitchins worked on and off with Soddy until 1927 - when she moved with her family to Kenya. She worked there as an assayer and chemist for the colonial government and retired in 1946. She died in 1972.
Source:
Find out more about Annie Lorrain Smith: