Dorothée Pullinger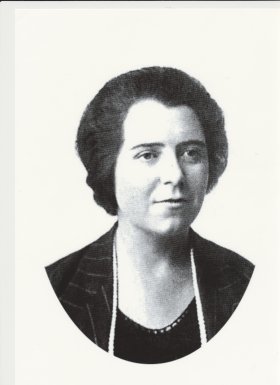 Image provided with kind permission of the Le Couvey-Martin family archives
Who am I?
Born in France, Dorothee Pullinger was the eldest child of the early automobile designer, Thomas Pullinger, her mother being French. Her early years were in France where her father worked for a rapid succession of the earliest car makers. The family moved to England in 1902 when her father was recruited to John Marston's Sunbeam cycle and car factory. Dorothee had to learn English very quickly as she was sent to board at Loughborough High School. By the time she left school her father's work had taken him to Arrol Johnston's car factory in Paisley and she was already keen to become an engineer. She married Edward Martin in 1924 and they had two children, Yvette and Lewis. In the 1920s she was a successful rally driver in one of her own Galloway cars and in retirement was said to be a fearless driver in the narrow lanes of Guernsey.
Source: © Nina Baker
I am monumental because
Dorothee never attended university and started her training to be an engineer in Arrol Johnston's drawing office in 1910, in Paisley and then Heathhall. In 1916 she was headhunted to become the Lady Superintendent at Vickers, Barrow in Furness, where she recruited and supervised up to 7,000 women munitions workers. On her return in 1918, she and her father designed the Galloway car: a lightweight, low cost car aimed specifically at the new market of women drivers, many of whom had learned to drive in the war. Dorothee also continued her practical engineering training as well as being a director of Galloway Engineering Company, before moving to the sales side in 1924. In the late 1920s, she built an industrial steam laundry with its own water wnd power supplies, in Croydon, The White Service Steam Laundry, which she and Lewis ran for abouit 20 years. During the 2nd World War the laundry was on standby as a decontamination station in case of a gas attack. Dorothee (Mrs Martin) was called on by both industry and governement to advise on the best management of women in munitions works, as similar problems had arisen to those in 1914-18. In 1947 Dorothee sold the London laundry and built a new one in St Peterport, Guernsey where she spent the rest of her life.
Source: © Nina Baker