Marbai Ardesir Vakil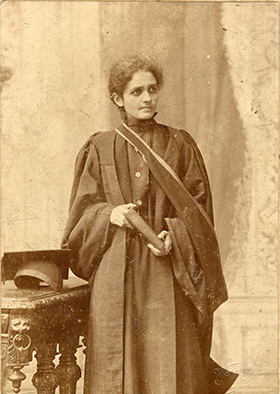 1868-c1948
Image: University of Glasgow
Who am I?
Dr Marbai Ardesir Vakil was born in Mumbai, India in 1868 and in 1897 became the first female Asian graduate of the University of Glasgow.
I am monumental because
Vakil, the eldest daughter of a solicitor, graduated with a BA fro Wilson College, Mumbai (then Bombay) in 1888. She enrolled at Grant Medical College in Mumbai in 1888 - then at the London School of Medicine for Women in 1890. In 1893 she arrived in Glasgow - enrolling at the Queen Margaret College Medical School, a women's medical school which was at the time merging with the University. She graduated with an MB CM in 1897 - just three years after Marion Gilchrist became the first female graduate of the University. After graduating she spent two years working in Glasgow - before returning to Mumbai. She relocated to Aden in 1927, where she worked in government service and private practice until 1941.
Source: the University of Glasgow's International Story Blog