Charlotte Auerbach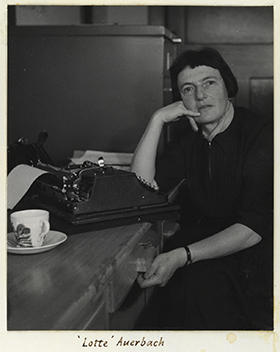 1899-1994
Image reproduced courtesy of Edinburgh Library Special Collections
Who am I?
Charlotte was born in 1899 and grew up in Berlin. After studying biology, physics and chemistry at Berlin, Würzburg and Freiburg Universities Auerbach went into teaching - convinced that she would never make a great scientist. She experienced significant anti-Semitism during her teaching career - and was eventually dismissed in April 1933 following the introduction of Adolf Hitler's new anti-Jewish laws. On the advice of her mother, Charlotte fled Germany for Edinburgh that same year.
I am monumental because
In 1933 Charlotte joined the University of Edinburgh's Institute of Animal Genetics as a PhD student - where she remained for the rest of her life. During the Second World War she studied the effects of mustard gas on cells. She investigated DNA damage using fruit flies. DNA damage experiments need hundreds of DNA samples from closely related groups. These are very difficult to get from humans so fruit flies are still used as a model today. Charlotte treated flies with mustard gas then counted how many of the treated flies passed on damaged DNA to their children. If the DNA damage was passed on to their children, this damage became permanent. Permanent DNA damage is called a "mutation". Charlotte received numerous honours in her later life -becoming a Professor Emeritus at the University, and a fellow of both the Royal Society and the Royal Society of Edinburgh. She died in 1994.
Why is my work important today?
We know that DNA damage comes from many sources... Sunlight, Chemicals and Radiation. DNA damage is important in cancer and other diseases leading to the development of new medicines. DNA damage is not all bad... It is important for introducing variety in our DNA which caused us to evolve from apes to humans!
What is DNA?
The thousands of cells that make up your body each contain DNA. DNA is all the information that makes you who you are. All of that information is stored in a chemical structure called the double helix.
Thanks to:
Leah McCabe, Gender and Equality Images PhD Intern, and Clare Button, Project Archivist, University of Edinburgh Library & Special Collections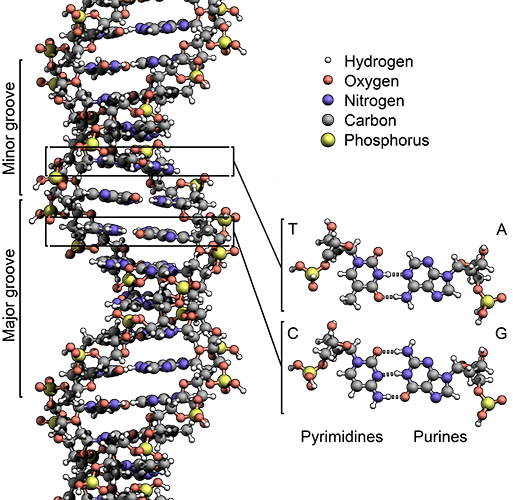 The structure of the DNA double helix. By Zephyris issued under a CC BY-SA 3.0 license (https://creativecommons.org/licenses/by-sa/3.0/)
Find out more about Charlotte Auerbach