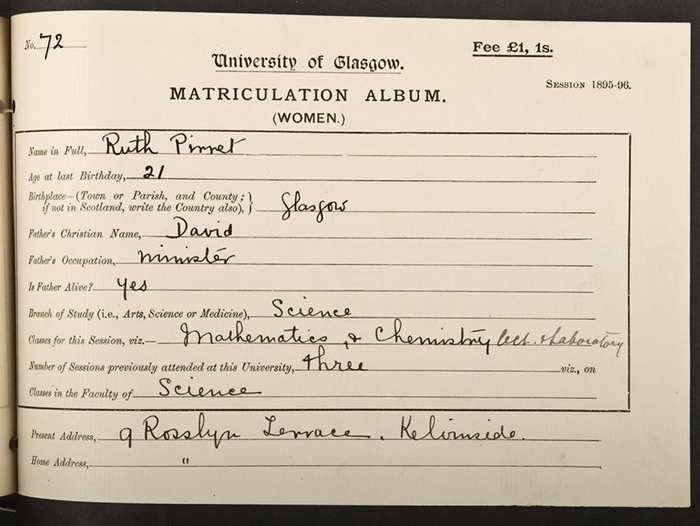 Who am I?
Ruth Pirret was born in Milton in Glasgow in 1874 - the daughter of a local minister. In 1892 she was among the first group of women to matriculate at the University of Glasgow. She graduated in April 1898 with a degree in Pure Science - and in doing so became the first woman to obtain a BSc at the University.

Image: Ruth Pirret's matricultion record 1819
I am monumental because...
Pirret was a brilliant student - winning no fewer than eight prizes during her undergraduate studies. Though she took courses in several subjects, her primary research interest was in chemistry and radiation. After a decade working in teaching, Pirret returned to the University of Glasgow as a research student - becoming only the second woman to register officially as a research student there. She worked with Frederick Soddy on the disintegration theory of radioactivity. (Soddy was awarded the Nobel Prize in Chemistry in 1921 for the discovery of isotopes). Pirret later worked in Manchester and London. She died in 1939.
Source:
Find out more about Pirret and Soddy
University of Glasgow story entries: