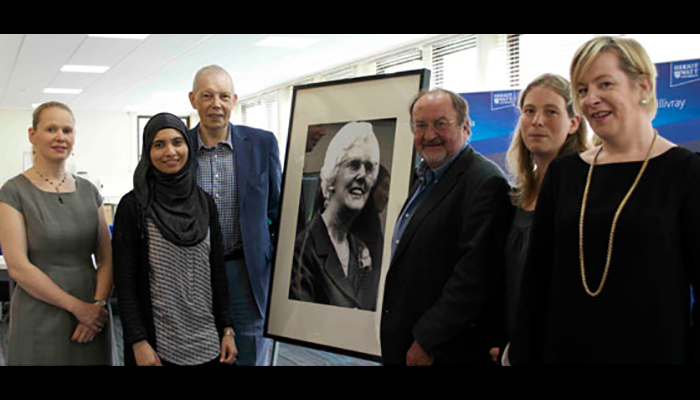 Who am I?
Mary 'Molly' Fergusson was the first woman fellow of the Institution of Civil Engineers. Although born and schooled in England, she graduated in Civil Engineering from the University of Edinburgh in 1936, and spent the whole of her adult life in Scotland. In 1967 Fergusson was part of the organisational committee for the Second International Conference of Women Engineers and Scientists. She retired from full-time work in 1978 and was appointed OBE in the 1979 Birthday Honours. She was awarded an honorary Doctor of Science degree at Heriot-Watt University in 1985, for her work in encouraging women to take up engineering careers. She was active in the Women's Engineering Society, Scout Association and Soroptimists. © Nina Baker
Image:
Unveiling of a plaque and portrait of Fergusson at the William Arrol Building, Heriot-Watt University, 2015.
Image courtesy of Heriot-Watt University
I am monumental because...
Upon her graduation, Blythe & Blythe accepted Molly for an apprenticeship. This was in the days when you normally paid for such training, but Molly was let off the premium and in her second year was paid thirty shillings (£1.50) a week. She remained with the firm the whole of her working life and worked on bridges and other infrastructure projects in Scotland - including bridges in the Highlands, sewers for water purification on the River Leven and paper mills in Markinch. When she became a partner in 1948, she was the first woman in the UK to achieve partnership in a prominent civil engineering consultancy. She became the first female corporate member of the Institution of Civil Engineers in 1939. In 1949 she became the first woman member of the Association of Consulting Engineers, and in 1957 the first woman Fellow of the Institution of Civil Engineers. When she first 'retired' she continued her engineering work as a consultant, using her fees to create and support a fund to help engineering students. © Nina Baker
Find out more about Mary Fergusson