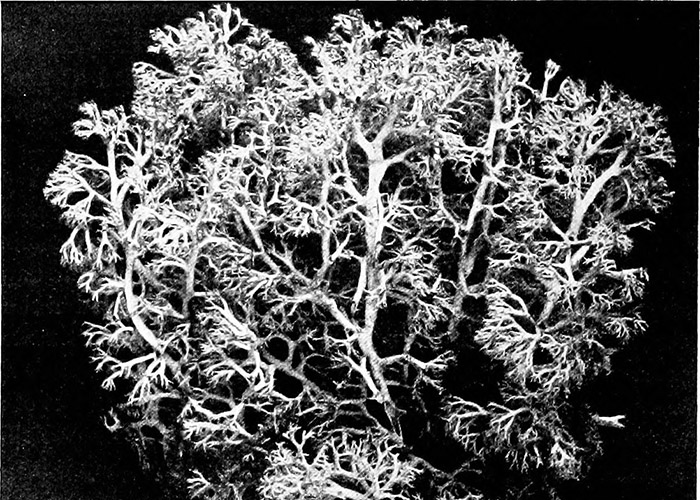 Who am I?
Annie Lorrain Smith was born in Liverpool in 1854. The daughter of a Free Church of Scotland Minister she was raised in Dumfriesshire, near Gretna Green. She came from a large, capable family - three of her brothers went on to become university professors. Smith herself worked as a governess for some time, but began studying botany in London around 1888. She had a lifelong association with the British Museum's Natural History collections - as an 'unofficial worker' as women were ineligible for official positions at the time.
Image:
Image from Smith's textbook Lichens of Reindeer Moss (Cladonia Rangiferina)
I am monumental because...
Smith's first work at the British Museum involved remounting slides of a recently acquired collection of microscopical fungi slides - and within a few years she was responsible for identifying most incoming fungi collections (and in particular those from East Africa, Angola and the West Indies). She published several studies on fungi between 1895 and 1920.

From 1906 she also worked extensively on lichenology. In 1921 she published her textbook Lichens - which was to remain the standard work in English on lichenology for half a century. Smith was a founding member of the British Mycological [Fungi] Society - serving as its president twice in 1907 and 1917. As a result of staff shortages at the British Museum during the First World War she became acting assistant in the cryptogamic department with responsibility for fungi and lichens - during which time she continued to be employed as an 'unofficial worker'. She was awarded an OBE in 1934, and died in London in 1937.
Why is my work important today?
Annie Smith's textbooks became classics in the field and were the main refernces for over 50 years, paving the way for future work and understanding of fungi and lichens.

Sources:
Oxford Dictionary of National Biography.

Image: From Smith's Lichens. From the Internet Archive, via Flickr
Find out more about Annie Lorrain Smith: