Who am I?
Dr Maud Perry Menzies was a doctor instrumental in the establishment of the Faculty of Public Health. She gained her medical qualifications, MB ChB, at the University of Glasgow in 1934.
Not only was she one of the minority of females graduating from medicine at that time, but she was
the top ranking student in surgery, receiving the Sir William Macewen Medal.
I am monumental because...
Initially working as a GP, Dr Menzies went on to become Assistant Medical Officer of Health in
Glasgow in 1938. One of her achievements during this time was the establishment of a diphtheria immunisation campaign in Rutherglen. When the Second World War broke out Dr Menzies enlisted in the Royal Army Medical Corps (RAMC), going to Normandy ten days after D-Day and working with the 79th British General Hospital, serving throughout the remainder of the European campaign.
Dr Menzies received the Diploma in Public Health (DPH) from the Royal College of Physicians and Surgeons of Glasgow in 1967. She was appointed principal Medical Officer for the school health service in Glasgow in 1967, and elected President of the Scottish branch of the Society of Medical Officers of Health.
Why is my work important today?
Maud was active in the Scottish BMA, and was instrumental in establishing the Faculty of Community Health, being the only woman on the first committee. Now known as the Faculty of Public Health, this is a joint faculty of the three medical Royal Colleges in the UK.
It is the standard setting body for public health specialists within the United Kingdom, setting standards for training, examination and specialist practice.
Sources
Information Courtesy of the Royal College of Physicians and Surgeons of Glasgow.

Find out more:
The Royal College of Physicians and Surgeons of Glasgow's Historical Collections contains her medical
bag and equipment, and a video of her life story. Additional information on their blog: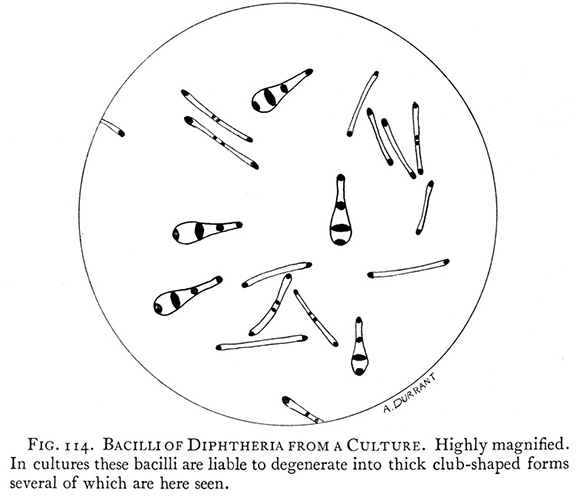 Bacilli of Diptheria from a Culture. Courtesy of the Wellcome Collection under the terms of the Creative Commons Attribution 4.0 International license (CC BY 4.0)