Dorothea Chalmers Smith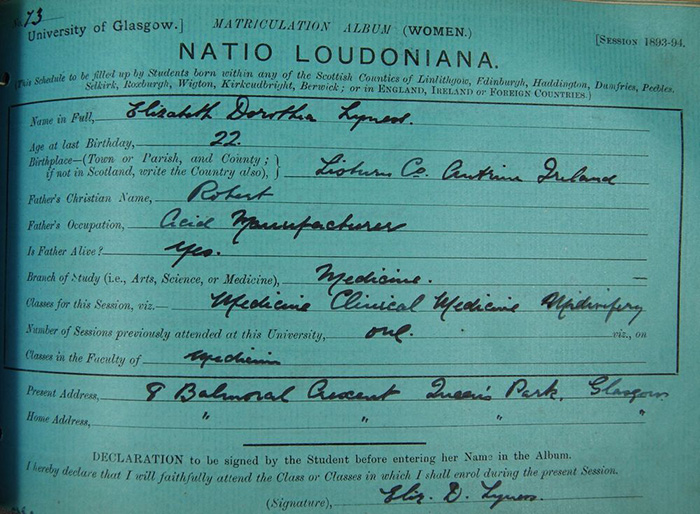 Who am I?
Dorothea Chalmers Smith (also know as Elizabeth Dorothea Lyness) was one of Scotland's first female medical graduates and a militant suffragette. Born in Glasgow in 1872, she graduated with an MD from the University of Glasgow in 1894 - along with Lily Cumming, Margaret Dewar and Marion Gilchrist. In 1899 she married the Reverend William Chalmers Smith, Minister of Calton Parish Church in the East End of Glasgow. Source the Biographical Dictionary of Scottish Women
Image: Smith's matriculation record - University of Glasgow
I am monumental because...
In 1912 Smith joined the Women's Social and Political Union (WSPU), a militant group campaigning for women's suffrage. From 1912 the WSPU targeted property as part of their campaigning - smashing shop windows, setting fire to stately homes and bombing public buildings. In July 1913 Smith was caught trying to burn down an empty property in Glasgow's West End at 6 Park Gardens with leading activist suffragist Ethel Moorhead. Hundreds of campaigners attended their trial at Glasgow's High Court, and apples were thrown at the judge as they were sentenced to eight months in prison each. Both women went on hunger strike. After five days Smith was released under the terms of the recently introduced Cat and Mouse Act, which allowed hunger strikers to be re-imprisoned as their health improved. Smith escaped house arrest and was never re-imprisoned. The case caused a sensation, so much so that the Kirk Session of Calton Parish Church demanded that the Rev. William either control or divorce his wife. They separated - and Smith continued her medical career. She died in 1944 and her Women's Social and Political Union medal was donated to Glasgow's People's Palace museum.
Ethel Moorhead
Dorothea Chalmers Smith's accomplice in the Park Gardens case was Ethel Moorhead (1869-1955) - a leading campaigner for women's suffrage in Scotland. Trained as an artist in James McNeill Whistler's studio in Paris, she joined the WSPU in 1911. From then on she gained notoriety - smashing windows, throwing an egg at Winston Churchill and attacking a teacher with a whip. After her arrest (with Smith) in 1913, she became the first suffragette in Scotland to be force-fed while on hunger-strike. During later spells in prison she went on hunger, thirst and sleep-strikes - nearly dying in the process. In later life she established and edited an arts journal. She died in Dublin in 1955.
Sources:
Source the Biographical Dictionary of Scottish Women.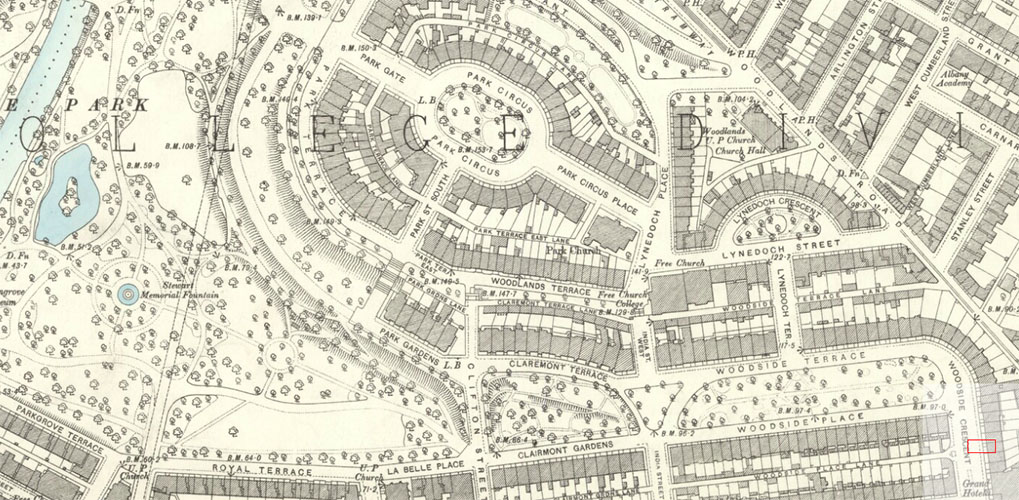 The Park Circus area of Glasgow - where Smith and Moorhead tried to burn down a property in 1913. Map reproduced with the permission of the National Library of Scotland under the terms of the Creative Commons Attribution-NonCommercial-ShareAlike license (CC-BY-NC-SA)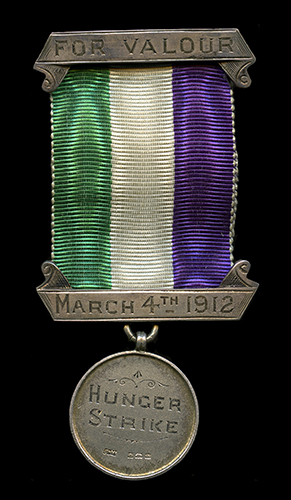 A WSPU Hunger Strike Medal - similar to that received by Dr Smith.
©Trustees of the British Museum, issued under a Creative Commons Attribution-NonCommercial-ShareAlike 4.0 International license (CC BY-NC-SA 4.0)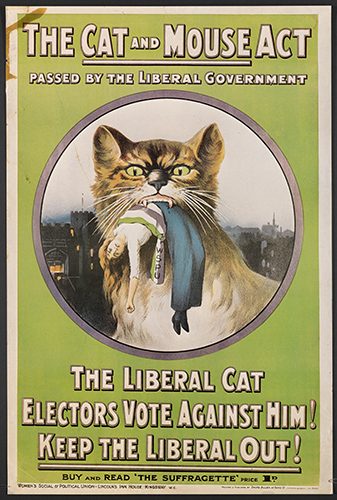 A suffragette poster pillorying the Liberal government's Cat and Mouse Act - under whose terms Smith was released from prison in 1914.
Image from the Schlesinger Library on the History of Women in America, Harvard University, via Flickr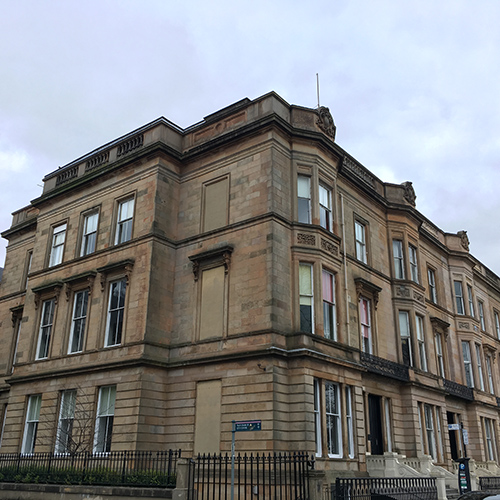 6 Park Gardens - the building Smith and Moorhead tried to burn down in 1914.
Find out more about Dorothea Chalmers Smith: