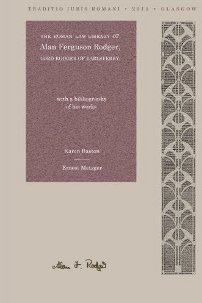 The Roman Law Library of Alan Ferguson Rodger, Lord Rodger of Earlsferry, with a Bibliography of His Works
Glasgow: Traditio Iuris Romani. 2012. ISBN 9780956642318.
Via Amazon UK. Via the Publisher.
By Karen Baston and Ernest Metzger
Alan Rodger, Lord Rodger of Earlsferry (1944–2011), Justice of the Supreme Court of the United Kingdom, assembled one of the largest private collections of Roman law works in the world: more than 1,300 treatises, monographs, texts and references works. This volume contains a catalogue of every work, annotated with provenance details, biographical notes on previous owners, and comments by Lord Rodger. This volume also contains a bibliography of Lord Rodger's publications, and essays on his life and work.