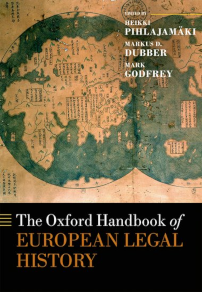 The Oxford Handbook of European Legal History
Oxford: Oxford University Press. 2018. 1216 pp. ISBN 9780198785521.
Via Amazon UK. Via the Publisher.
Edited by Heikki Pihlajamaki, Markus D. Dubber, and Mark Godfrey
From the publisher: "This handbook provides a broad overview of the development of European legal history from Ancient Greece to the twenty-first century. It engages with current research questions in international scholarship, and, in addition to Europe's heartland, details the history of its geographical 'fringes', such as Scandinavia and Eastern Europe."