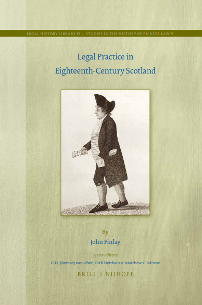 Legal Practice in Eighteenth-Century Scotland
Leiden: Brill | Nijhoff. 2015. 458 pp. ISBN 9789004294936.
Via Amazon UK. Via the Publisher.
By John Finlay
This book is the first monograph to analyse the workings of Scotland's legal profession in its early modern European context. It is a comprehensive survey of lawyers working in the local and central courts; investigating how they interacted with their clients and with each other, the legal principles governing ethical practice, and how they fulfilled a social role through providing free services to the poor and also services to town councils and other corporations. Based heavily on a wide range of archival sources, and reflecting the contemporary importance of local societies of lawyers, John Finlay offers a groundbreaking yet accessible study of the eighteenth-century legal profession which adds a new dimension to our knowledge of Enlightenment Scotland.