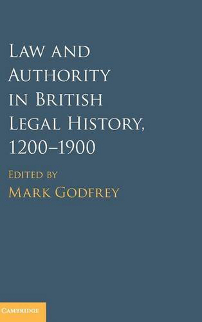 Law and Authority in British Legal History, 1200–1900
Cambridge: Cambridge University Press. 2016. 358 pp. ISBN 9781107122277.
Via Amazon UK. Via the Publisher.
Edited by Mark Godfrey
By presenting original research into British legal history, this volume emphasises the historical shaping of the law by ideas of authority. The essays offer perspectives upon the way that ideas of authority underpinned the conceptualisation and interpretation of legal sources over time and became embedded in legal institutions. The contributors explore the basis of the authority of particular sources of law, such as legislation or court judgments, and highlight how this was affected by shifting ideas relating to concepts of sovereignty, religion, political legitimacy, the nature of law, equity and judicial interpretation. The analysis also encompasses ideas of authority which influenced the development of courts, remedies and jurisdictions, international aspects of legal authority when questions of foreign law or jurisdiction arose in British courts, the wider authority of systems of legal ideas such as natural law, the authority of legal treatises, and the relationship between history, law and legal thought.