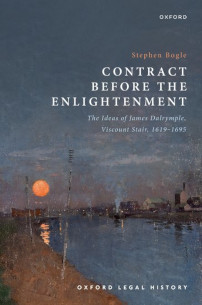 Contract before the Enlightenment: the Ideas of James Dalrymple, 1619-1695
Oxford: Oxford University Press. 2023. 304 pp. ISBN9780192884961.
Via Amazon UK. Via the Publisher.
By Stephen Bogle
From the publisher: "Contract Before the Enlightenment represents a fresh investigation of what was then a ground-breaking approach to the law of contract written by James Dalrymple, Viscount Stair (1619-1695), lauded by some as the founding father of Scots law.
As a judge and public figure, Stair was at the forefront of both political and legal developments in Scotland from the 1640s until he died in 1695. This study explores the development and reception of his ideas relating to the law of contract on the eve of the Scottish Enlightenment. It is here that Stair's legal legacy is most evident, and where the imprint of Calvinism, Aristotelianism, and Protestant natural law can be found within Scottish legal thought.
In his legal treatise, the Institutions of Law of Scotland you find a sophisticated, innovative, and novel synthesis of Roman law with Stair's own Calvinist variant of a Protestant natural law theory. Yet it is also possible to find, once the theistic premises of Stair's natural law theory are dropped, the beginnings of a form of Scottish moral philosophy that rose to prominence in the eighteenth century.
Undoubtedly, Stair is not only a key figure within Scottish legal history but also significant to how we understand the transition of Scottish intellectual life from the execution of Charles I to the emergence of the Scottish Enlightenment."