Issue 24 (Spring 2016): Belonging and Inclusion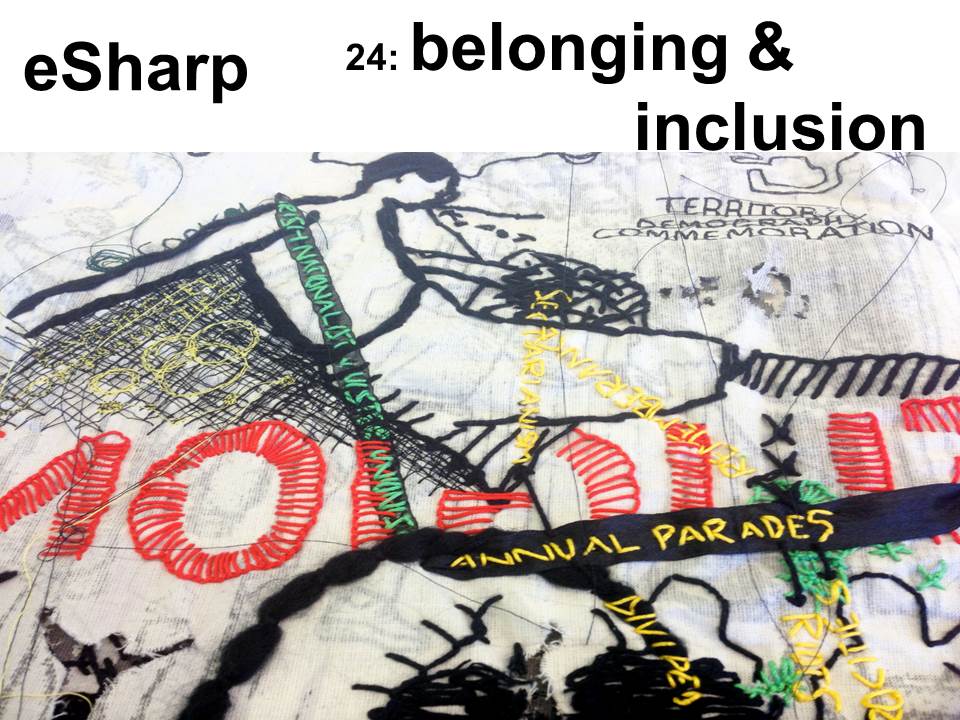 ‌‌‌‌
‌‌The ongoing global refugee crisis, the recent Referendum in Scotland, debates over equality and diversity, including recent campaigns such as 'Black Lives Matter', all have historical precedents, while the upcoming EU referendum has newly focused attention on the problematic nature of belonging and inclusion in a postmodern society.
What does it ultimately mean to 'belong'? Concepts of acceptance and communality in dialogue with minority identities, difference and diversity, resonate across disciplines, time and borders. 'Inclusion' is an equally contested concept. Today's society could be reimagined as one that strives for the absence of 'exclusion', while remaining aware of the potential dangers that accompany the enforcement of 'inclusion'. Such considerations raise the question of what it means to be accepted by society without losing a sense of the personal and private self.
Our authors have tackled the questions and issues inherent within the ideas of belonging and inclusion, engaging with a wide array of topics. The overarching theme has generated an eclectic range of responses: from Chinese dance in Belfast to representations of disability in Arabic children's literature, and from multilingualism in Isherwood's Berlin novels to the gendering of penance in medieval manuscripts. Issue 24 also features articles on: charity schools in Scotland in the eighteenth century; methods of education and ethnicity in contemporary teaching; 'relational aesthetics' in community art; a re-evaluation of class relations in Mansfield's work; and issues surrounding the human relationships formed in spite of, or because of, mass migration.
This diverse and interdisciplinary collection of articles challenges constructions of identity and belonging in a world increasingly forced to confront such themes. The editors would like to thank the authors and reviewers who have contributed to this issue of eSharp.

Lead editors: Clare Blackburne, Nia Clark, Katie Cuthbertson, Rebecca Mason, Stefanie McNerney and Leila Riszko.
Image: Nikkita Morgan, Encircled (detail)
Contents
| | | |
| --- | --- | --- |
| Emma Osborne | Active Absolution and Passive Penance: The Gendering of Forgiveness in the Auchinleck Manuscript's Legend of Pope Gregory | eSharp 24 - 1 ‌ |
| Wanting Wu | Defining Self: Performing Chinese Identity Through Dance in Belfast | eSharp 24 - 2 |
| Clara Voyvodic Casabo | Security and Self: Identity Construction from Above and Below in the Refugee Crisis in Europe | eSharp 24 - 3 |
| Marine Furet | 'Something youthfully heartless': Language and Belonging in Christopher Isherwood's Berlin Novels | eSharp 24 - 4 |
| Jamie Kelly | The Mission at Home: The Origins and Development of the Society in Scotland for Propagating Christian Knowledge, 1709-1767 | eSharp 24 - 5 |
| Saskia McCracken | 'That Moment of Suspension': Class and Belonging in Katherine Mansfield's Short Stories, 'The Daughters of the Late Colonel' and 'The Doll's House' | eSharp 24 - 6 |
| Susanne Abou Ghaida | In the world but not of it: Disability and Belonging in Arabic Children's Literature on Disability | eSharp 24 - 7 |
| Christos Asomatos | Inclusion and Community: The Problematics of Contemporary Art in the New Democratic Paradigm | eSharp 24 - 8 |
| Susie Marshall | The Use of Ethnic Data Analysis in Promoting Inclusion | eSharp 24 - 9 |