eSharp
eSharp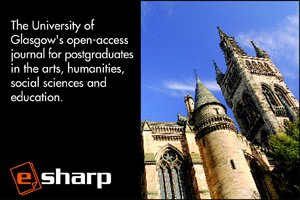 eSharp is an international online journal for postgraduate research in the arts, humanities, social sciences and education. Based at the University of Glasgow and run entirely by graduate students, it aims to provide a critical but supportive entry into the realm of academic publishing for emerging academics, including postgraduates and recent postdoctoral students.
One of our aims is to encourage the publication of high quality postgraduate research; therefore all submitted articles are anonymously double-blind peer reviewed as part of the acceptance and feedback process. This rigorous and constructive process is designed to enhance the worth of postgraduate and postdoctoral work. eSharp also engages in training postgraduate students in the various tasks that running an academic journal requires. Enhancing both employability and the graduate experience is a key aspect of its aims and objectives.
We are always looking for enthusiastic postgraduate students to join our team. If you are interested becoming involved with eSharp or The Kelvingrove Review then please contact us at esharp@gla.ac.uk.
Call for Reviewers
Call for Reviewers
The call for reviewers for The Kelvingrove Review is now open.
The Kelvingrove Review is an online academic review journal focusing on critical analyses of contemporary and innovative scholarly and fictional works in the arts, humanities, social sciences, and beyond.
The theme of our 17th issue is (Re)Creation.
TKR will be launched together with the 26th issue of eSharp in June 2018.
All reviews are by postgraduate students at the University of Glasgow.
We have selected an exciting list of books as well as new media, including film, television, and radio to match this issue's theme of (Re)Creation:
No Is Not Enough: Defeating the New Shock Politics, by Naomi Klein (Penguin Random House, June 2017)
Utopia for Realists: And How We Can Get There, by Rutger Bregman (Bloomsbury, May 2017)
Women & Power: A Manifesto, by Mary Baird (Profile, November 2017)
The Amateur: The Pleasure of Doing What You Love, by Andy Merrifield (Verso, May 2017)
Stay With Me, by Ayobami Adebayo (Canongate, March 2017)
Norse Mythology, by Neil Gaiman (Bloomsbury, February 2017)
Somebody I Used To Know: Dementia From The Inside, by Wendy Mitchell (Bloomsbury, January 2018)
Arthur and Sherlock: Conan Doyle and the Creation of Holmes, by Michael Sims (Bloomsbury, January 2017)
Facsimilization, exhibition of Alasdair Grey (The Lighthouse, February/March 2018)
Annihilation (film), directed by Alex Garland (Paramount Pictures, February 2018; available on Netflix 12 March)
Queer Eye, created by David Collins (Netflix, February 2018)
Reviewing is an excellent introduction to the publication cycle for postgraduates. If you are interested in reviewing any one of the works above, or if you have something else relevant to our theme in mind, please see the guide for reviewers on our website: www.glasgow.ac.uk/tkr.
To apply please send an email with the subject line 'TKR Application' to esharp@gla.ac.uk with the following information:
- Your name and contact details (student email)
- Your course of study
- The work(s) you would like to review
- A brief biography where you describe your research interests
Books and media will be assigned to reviewers on the basis of relevance to field of interest. Reviews should be approximately 1,000 words in length. Closing date for registration of interest is the 19th of March 2018. Reviewers will be contacted with further details within a few days of the closing date. Demand for books is normally high.
We look forward to hearing from you!