eSharp
eSharp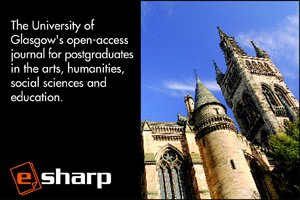 eSharp is an international online journal for postgraduate research in the arts, humanities, social sciences and education. Based at the University of Glasgow and run entirely by graduate students, it aims to provide a critical but supportive entry into the realm of academic publishing for emerging academics, including postgraduates and recent postdoctoral students.
One of our aims is to encourage the publication of high quality postgraduate research; therefore all submitted articles are anonymously double-blind peer reviewed as part of the acceptance and feedback process. This rigorous and constructive process is designed to enhance the worth of postgraduate and postdoctoral work. eSharp also engages in training postgraduate students in the various tasks that running an academic journal requires. Enhancing both employability and the graduate experience is a key aspect of its aims and objectives.
We are always looking for enthusiastic postgraduate students to join our team. If you are interested becoming involved with eSharp or The Kelvingrove Review then please contact us at esharp@gla.ac.uk.
Current Issue
Current Issue
In a year noted for loss, conflict, antagonism and resistance, the theme for the twenty-fifth issue of eSharp is 'Rise and Fall'. We invited applicants to explore themes around rising above, an arising, falling behind, falling under and positions of stasis amidst surges and declines. Subjects for papers suggested on this theme included the rise and/or fall of ideas, figures, and narrative; the rise and fall of political movements; the rise of extremism; the rise of barriers (physical, technological, linguistic); the fall of ideologies, states, cities or social models; artistic arisings. Overwhelmed by the response we received, we took the decision to publish this 25th issue in two volumes. Volume 1 was published in June and Volume 2 is now available. Both can be accessed by clicking on the 'Issues' tab on the left.
For all enquiries and comments please contact: esharp@gla.ac.uk