eSharp
eSharp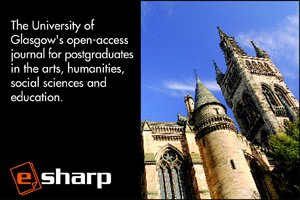 eSharp is an international online journal for postgraduate research in the arts, humanities, social sciences and education. Based at the University of Glasgow and run entirely by graduate students, it aims to provide a critical but supportive entry into the realm of academic publishing for emerging academics, including postgraduates and recent postdoctoral students.
One of our aims is to encourage the publication of high quality postgraduate research; therefore all submitted articles are anonymously double-blind peer reviewed as part of the acceptance and feedback process. This rigorous and constructive process is designed to enhance the worth of postgraduate and postdoctoral work. eSharp also engages in training postgraduate students in the various tasks that running an academic journal requires. Enhancing both employability and the graduate experience is a key aspect of its aims and objectives.
We are always looking for enthusiastic postgraduate students to join our team. If you are interested becoming involved with eSharp or The Kelvingrove Review then please contact us at esharp@gla.ac.uk.
Calling all artists!
Calling all artists!
The Kelvingrove Review and eSharp are looking for artists to submit their work to be considered for use on the cover of this year's publications!
The Call is open to any artist looking for an opportunity to showcase their work with real cash paid for the work chosen. You do not need to be an art student, postgraduate or professional, just someone with a passion (and a talent)!
The piece/pieces should consider this year's theme which is:
(Re)creation
This should be used as the starting point for any piece. This will ideally consist of two complimentary pieces, one for each of the covers, or one piece that can be divided into two.
Artists are encouraged in the use of all 2D media, as long as we are able to transfer this work onto our online and print versions. All pieces need to be A4 in order for us to use them.
£100 Prize for the artist chosen
The deadline for submissions is Monday 21st May 2018.
Any questions, queries and submissions to be directed to j.saunders.1@research.gla.ac.uk or esharp@gla.ac.uk