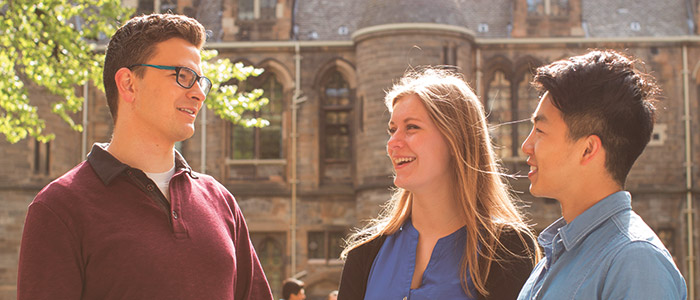 Scottish literature is the study of the poetry, drama, fiction and prose of Scotland, in English and Scots, from its beginnings in the 14th century to the most contemporary work.
The University hosts the only academic unit in the UK exclusively dedicated to the teaching of, and research into, Scottish literature. We are home to the Centre for Robert Burns Studies, which has been awarded over £2 million in funding from the Arts and Humanities Research Council, and which is engaged in the production of a new, multi-volume, scholarly edition of the works of Scotland's national poet.
September start: session dates
Scottish Literature MA (Hons): Q201 4 year degree
What our students say
"A broadness of eras and topics give a huge amount of insight into not only Scotland's literary history, but also help students learn about the nation's political and social history. I also think that the teaching staff that are part of the Scottish Literature department are some of the most friendly and helpful that I have encountered throughout my time at uni and this improves my learning exponentially."
"I have loved every moment of my studies so far! I have found a passion for Scottish Literature that I didn't realise I had and would more than happily recommend the course to younger students!"
Programme structure
Year 1
You will study a diverse range of Scottish texts from the earliest times to the present day. You will read the work of many of the nation's best-known writers. Texts, including those in the Scots language, are explored within the context of key historical and cultural themes.
Year 2
The following year you will explore older Scottish literature and language from the medieval period until the 18th-century including the great medieval Makars (poets), Dunbar and Henryson, and the foundational early play Ane Satyre of the Thrie Estaitis. Eighteenth-century writing, including Ramsay, Smollett and Burns, is also an important part of the programme.
You will also study the Scots language and early literature in level 1 English Language & Linguistics, as well as other subjects in years 1 and 2. See Flexible degrees.
Years 3 and 4
If you progress to Honours (years 3 and 4) you will explore in depth new theoretical approaches to Scottish literature, and study widely in different periods, from medieval Scottish literature through the work of Burns and Scott, to the contemporary scene.
You will also be able to specialise in specific genres and themes in Scottish writing.
The topics offered to students at Honours level include beginnings to early modern, alternative Renaissances, history of Scots, history of the Scottish book, popular literary enlightenment, textual editing, Scottish crime fiction, Scottish journeys, modern Scottish poetry, memorialising Scottish culture and literature (which has a compulsory placement in a museum, library or gallery), contemporary Scottish literature and Crime writing in Scotland.
Programme alteration or discontinuation
The University of Glasgow endeavours to run all programmes as advertised. In exceptional circumstances, however, the University may withdraw or alter a programme. For more information, please see: Student contract.
Our international links
You can spend up to a year of your degree studying abroad, normally in your third year. We have links with the Universities of Mainz and Verona. See Study abroad.
Entry requirements
for entry in 2020
Applicants to subject-combinations with Psychology must meet the Psychology degree programme entry requirements.
MA
For applicants whose first language is not English, the University sets a minimum English Language proficiency level.
Career prospects
An Honours degree in Scottish Literature opens up a wide range of career opportunities. You could find employment in areas including journalism and broadcasting, education, research, marketing, publishing, data processing, management and librarianship. Some of our graduates have gone abroad to teach English as a foreign language: recent placements have been in Ecuador, Japan, Russia and Taiwan.
Degrees and UCAS codes
When applying you will need to know the UCAS code for the subject or subject-combination that you wish to apply to:
MA (Hons)
Scottish Literature: Q201
Scottish Literature/Celtic Civilisation: QQF5
Scottish Literature/Celtic Studies: QQ25
Scottish Literature/Central & East European Studies: RQR2
Scottish Literature/Comparative Literature: Q291
Scottish Literature/English Language & Linguistics: QQ2J
Scottish Literature/English Literature: QQ2H
Scottish Literature/Film & Television Studies: QW26
Scottish Literature/Geography: LQ72
Scottish Literature/History: QV21
Scottish Literature/History of Art: QV23
Scottish Literature/Latin: QQ26
Scottish Literature/Mathematics: GQ12
Scottish Literature/Music: QW23
Scottish Literature/Politics: LQ22
Scottish Literature/Portuguese: R642
Scottish Literature/Psychology: CQ82
Applicants must meet the Psychology requirements
Scottish Literature/Russian: QR27
Scottish Literature/Scottish History: QVF2
Scottish Literature/Sociology: LQ32
Scottish Literature/Spanish: RQ4M
Scottish Literature/Theatre Studies: QW24
Scottish Literature/Theology & Religious Studies: QV26
Fees and funding
Tuition fees
How and when you pay tuition fees depends on where you're from: see Tuition fees for details.
Scholarships
The University is committed to supporting students and rewarding academic excellence. That's why we've invested more than £1m in additional scholarship funding in recent years.
The scholarships above are specific to this programme. For more funding opportunities search the scholarships database
How to apply
If you're seeking full-time study you must apply through the Universities & Colleges Admissions Service (UCAS). International students may also apply via The Common Application – however, if applying to more than one UK university, we recommend using UCAS.
Application deadlines
The deadlines for applications to Medicine, Vet Medicine and Dentistry is 15 October each year. The deadline for applications to all other degree programmes is 15 January each year (UCAS only). Students residing in the UK/EU should apply by the 15 January and International students should apply by the 30 June on the year of entry.
The University of Glasgow does not usually accept any applications after these deadlines. It is the applicants' responsibility to ensure the accuracy of their application prior to submission, and requests from applicants to correct erroneous application content, change degree programme or change college of entry, will not be accepted after these deadlines. This policy is in place to ensure fairness and consistency to all applicants, and no exceptions will be made.
15 October: if including Dentistry, Medicine, Veterinary Medicine or applying to Oxford or Cambridge
15 January: all other UK/EU applicants (unless otherwise stated on the UCAS website)
30 June: international (non-EU) students.
Apply at www.ucas.com or through your school or college.
Contact UCAS on 0871 468 0468.

Apply on commonapp.org (international students only)
Tuition Fee Status
Tuition fee status is determined by nationality and country of ordinary residence.
If you are a UK/EU citizen living outside the EU for over three years, it is likely that you will have to pay the international fee.
If you are unsure of your fee status, it is strongly advised that you apply by the 15 January deadline and submit a Fee Status Enquiry form as soon as possible.
UCAS tariff points
The University does not frame its offers in terms of UCAS tariff points.
How soon will I receive a decision?
We will usually respond before the end of March.

If your qualifications meet our requirements and we believe you could benefit from study at Glasgow, you will receive an unconditional offer.
If you haven't yet gained the necessary passes for entry to your chosen subject(s), we may look at the qualifications you are taking when you apply and make you a conditional offer.
Will I be interviewed?
An interview will be part of the selection process for: Community Development, Dentistry, History of Art & Art-world Practice, Medicine, Music, Nursing, Teaching, and Veterinary Medicine & Surgery. You may also be interviewed if you're applying for entry into Year 2 in any subject.
Is deferred entry available?
For Dentistry, Nursing and Veterinary Medicine programmes we are unable to consider applications for deferred entry. In other cases deferring may be possible but it's not granted automatically.
University Transfers
Transfers from another University to the University of Glasgow will only be considered under the following circumstances:
The applicant has a genuine personal circumstance (illness, bereavement or other family situation) which requires the student to move back to their home town to be closer to family; AND
The applicant would have met the University of Glasgow entrance requirements at the time he/she went to the other institution. In exceptional circumstances, a student may be admitted if he/she was marginally below the University of Glasgow entrance requirements, and they have performed above average at the other institution.
Widening participation
We want to help talented applicants from all backgrounds to study at Glasgow. See our range of widening access pre-entry programmes at Widening Participation.
Apply at www.ucas.com or through your school or college.
Contact UCAS on 0871 468 0468.

Apply on commonapp.org (international students only)
More information about this programme
The Andrew Tannahill Fund
Scottish Literature students were satisfied overall
Data published by Unistats, February 2019