The Abbotsford Library Research Project
The Abbotsford Library Research Project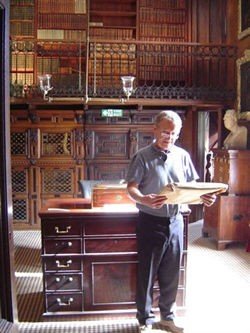 Scottish Literature at Glasgow plays an important part in research into the library of Sir Walter Scott at Abbotsford near Melrose, overseen by the Faculty of Advocates in Edinburgh. The library of more than 15,000 volumes and manuscripts, many of them rare, is one of the greatest writers' libraries in the world. For more information on Abbotsford House, see http://www.scottsabbotsford.co.uk/
meritus Professor Douglas Gifford (Scottish Literature) has been Honorary Librarian at Abbotsford since 1995, and Professor Gerard Carruthers (Scottish Literature) is the current University of Glasgow representative on the Joint Abbotsford Advisory Committee, having served in this role since 2003. In recent years Dr Kirsteen McCue (Scottish Literature), Professor Nigel Leask and Emeritus Professor Andrew Hook (both English Literature) have served in an advisory capacity to projects at Abbotsford. Working with colleagues from the Faculty of Advocates, the National Library of Scotland and the universities of Aberdeen and Edinburgh, research into both the career of Walter Scott and the significance and history of his collection more generally have been proceeding for a decade and a half. Some of the key research outputs are as follows:

A new searchable catalogue for the library has been completed by Lindsay Levy of the Faculty of Advocates, in part funded by a grant from the Carnegie Trust for the Universities in Scotland for which the University of Glasgow was co-investigator. Lindsay is undertaking a PhD into Scott's library supervised in Scottish Literature at Glasgow. http://www.advocates.org.uk/library/catalogue.html.
Other key research from this project includes: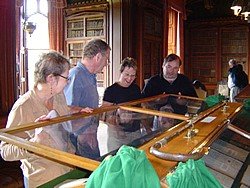 Gerard Carruthers (Glasgow) and Professor Alison Lumsden (Aberdeen) edited Scott's Reliquiae Trotcosienses (Edinburgh University Press, 2004), the first full edition of Scott's semi-fictional guide to his library and meditations on antiquarianism. http://www.advocates.org.uk/library/specialcollections/abbotsford/ReliquiaeTrotcosienses.html
Carruthers and Lumsden also edited Sylva Abbotsfordienses (2007). An online version of Scott's notebook for setting out his grounds at Abbotsford House. http://www.advocates.org.uk/downloads/library/SylvaTranscript.pdf.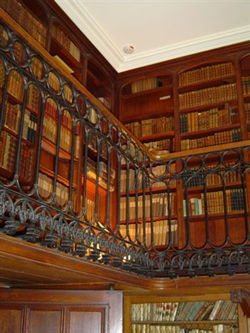 ‌ A new facsimile edition of The Fornicators Court (Faculty of Advocates, 2009), a rare Robert Burns book owned by Scott, was introduced by Gerard Carruthers & Dr Pauline Mackay (Centre for Robert Burns Studies, University of Glasgow).

More recently Dr Rhona Brown (Scottish Literature, Glasgow) has completed an edition of James Beattie's lost poem, 'The Grotesquiad' which was rediscovered at Abbotsford. http://res.oxfordjournals.org/content/early/2013/10/26/res.hgt086.full.

Research into the marginal annotations made by Scott in his books compiled by Dr Megan Coyer (Centre for Medical Humanities) was funded by a grant from the Chancellor's Fund of the University of Glasgow. This made available high quality digital images of Scott's annotations and has linked these images to the online catalogue of Scott's library. Between March 2011 and March 2012 Dr Coyer identified all annotations to be photographed, photographed the texts and processed the images. They can now be accessed at http://www.advocates.org.uk/library/catalogue.html. You can find out more about this project by clicking on the PDF (The Abbotsford Library Annotations Project Report) prepared by Dr Coyer.
For further information on Abbotsford, see: http://www.scottsabbotsford.co.uk/visiting-abbotsford/the-house/the-library