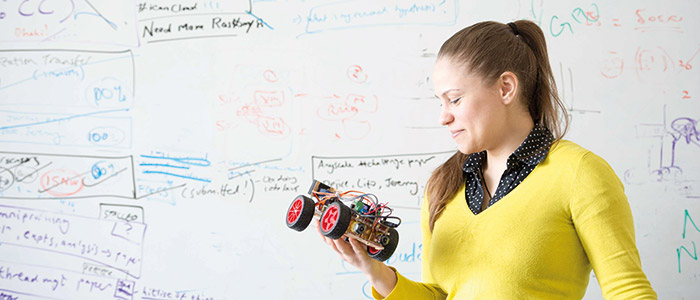 Computing science is wide-ranging: from programming and engineering large software systems, to the design and evaluation of human-computer interfaces, algorithms, computer and network systems, artificial intelligence, information retrieval and big data systems.
Graduates with degrees in these areas are highly employable and can look forward to well-paid careers designing and building the digital technologies that underpin the global economy and, indeed, every aspect of human activity from healthcare through music to the making the natural environment sustainable.
September start: session dates
Computing Science BSc (Hons): G400 4 year degree
Computing Science (Faster route) BSc (Hons): 3N7R 3 year degree
Computing Science MSci: G402 5 year degree
Computing Science (Faster route) MSci: 7G3F 4 year degree
Why study Computing Science?
Computing Science at Glasgow is ranked 7th in the UK

and

2nd in Scotland

(Complete University Guide 2020)

Our graduates in Computing Science are recognised by the British Computer Society (BCS), The Chartered Institute for IT, and meet the academic requirement for registration as a Chartered IT Professional (CITP)

The School of Computing Science has been ranked first for overall student satisfaction in four of the last nine years in the National Student Survey. Courses are designed and taught by researchers who are leaders in their fields

The School of Computing Science launched the pioneering Centre for Computing Science Education in 2017, in recognition of our commitment to leadership and innovation in educational practice
Programme structure
Year 1
There is a substantial emphasis on programming, which we view as a fundamental skill. We mostly use the Python language. We also provide a broad introduction to other key areas of the subject, including computer systems, databases, and human-computer interaction.
Year 2
You will study Java programming, object-oriented software engineering, data structures and algorithms, algorithmic foundations, computer networks, operating systems and web application development.
You will also study other subjects in years 1 and 2: see Flexible degrees.
Years 3, 4 and 5
Core courses:
As an Honours student (years 3 and 4), you will cover the essential aspects of computing science in depth. Our curriculum is driven by our world-leading research sections and we offer opportunities for programme specialisms from year 3 onwards. Together with team projects and a substantial individual project, the programme provides excellent preparation for professional computing scientists.
Computing Science can be taken as an MSci, which includes an additional year. Students on the MSci programme follow the BSc Honours degree programme, followed by an additional year studying advanced courses and a substantial research-oriented project.
Faster route
If you have exceptional grades it is possible to follow a faster route, which allows you to complete a standard BSc (Hons) or MSci degree in one year less than usual, by being exempted from most of the first-year computing science material.
Programme alteration or discontinuation
The University of Glasgow endeavours to run all programmes as advertised. In exceptional circumstances, however, the University may withdraw or alter a programme. For more information, please see: Student contract.
Our international links
You will have the opportunity to apply to study abroad. There are currently two options available: the Erasmus+ Programme and the International Exchange Programme. See Study abroad.
Entry requirements
for entry in 2020
Applicants to subject-combinations with Psychology must meet the Psychology degree programme entry requirements.
BSc/MSci
MA
MA (SocSci)
Glasgow International College
International students with academic qualifications below those required should contact our partner institution, Glasgow International College, who offer a range of foundation certificates.
For applicants whose first language is not English, the University sets a minimum English Language proficiency level.
Career prospects
Graduates of this programme have gone on to work for companies such as JP Morgan, Morgan Stanley, Skyscanner, Yahoo, RBS, and Amazon. Positions include Software Developer, Software Engineer, Python Developer, VR Developer Teacher and Lab Demonstrator.
Accreditation
Honours graduates are eligible for membership of the British Computer Society and, after relevant work experience, they can apply to become full Chartered IT Professionals (CITP) and partial Chartered Scientists (CSci)/Chartered Engineers (CEng). MSci graduates are eligible for full CITP and partial CSci. Honours degrees hold the Euro-Inf Bachelor Quality label; MSci degrees hold the Euro-Inf Master Quality Label.
Degrees and UCAS codes
When applying you will need to know the UCAS code for the subject or subject-combination that you wish to apply to:
BSc (Hons)
MSci
MA (Hons)
MA(SocSci) (Hons)
Fees and funding
Tuition fees
How and when you pay tuition fees depends on where you're from: see Tuition fees for details.
Scholarships
The University is committed to supporting students and rewarding academic excellence. That's why we've invested more than £1m in additional scholarship funding in recent years.
The scholarships above are specific to this programme. For more funding opportunities search the scholarships database
How to apply
Full-time students must apply through the Universities & Colleges Admissions Service (UCAS).
International students can also apply using The Common Application: however, if applying to more than one UK university, we recommend using UCAS.
Application deadlines
We do not usually accept any applications after these deadlines.
It's your responsibility to ensure the accuracy of your application before submission. Requests to correct application content, change degree programme or change college of entry, will not be accepted after these deadlines. This policy is in place to ensure fairness and consistency to all applicants, and no exceptions will be made.
ATAS: Academic Technology Approval Scheme
Please note that this programmes in this subject at Masters level require ATAS. If you require a visa to study in the UK then you will need to apply for an ATAS certificate before applying for your visa or extension of stay, allowing at least four weeks (20 working days) in order to obtain it.
The Academic Technology Approval Scheme (ATAS) was introduced on 1 November 2007. It is used to help stop the spread of knowledge and skills that could be used in the proliferation of weapons of mass destruction (WMD) and their means of delivery. This is in common with other governments around the world.
The ATAS is designed to ensure that people who are applying to study certain sensitive subjects in the UK do not have links to WMD programmes.
More information about this programme
BSc students in work were in professional / managerial jobs
Discover Uni, January 2020
PROFESSIONALLY ACCREDITED

UK top 10: Times & Sunday Times Good University Guide [Computer Science]